Continuing to assert their position as the most ethical, purpose-driven B-Corp coffee business in the UK, Cafédirect have pledged 'Better coffee for everyone' with their new range of blends, "Be the Change".
Cafédirect have pledged to help to RESTORE the environment.
Climate change is the single largest threat to the livelihoods of coffee growers- according to them.
Forget universally soaring costs, a decrease in demand for luxury commodities like coffee, various conflicts ravaging global trade and an impending recession as the world has struggled to heal after the pandemic- the devastating effect of global warming is by far the worst problem facing Cafédirects partner growers today, despite contributing far less to carbon emissions than other industries.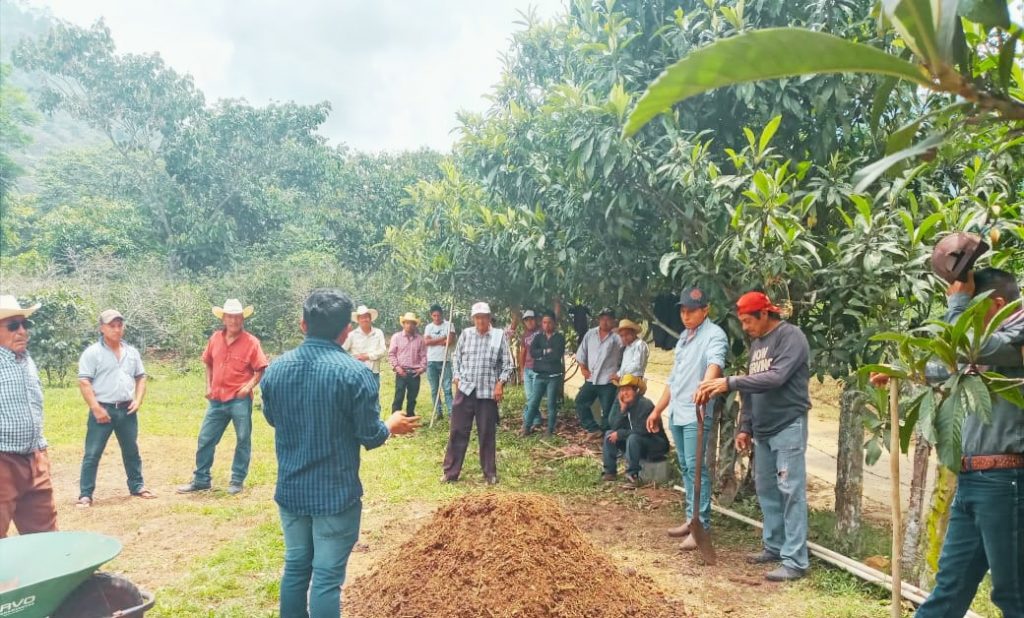 At the current rate of global warming, it is estimated that 50% of all arable land used for growing coffee will be unsuitable for use by 2050. That's only 27 years away. Within this time, the livelihoods of millions all across the world who are reliant on the coffee trade will be at risk, leading to devastation amongst communities in South America and Central Africa who already face poverty and extreme conditions. Whole supply chains could be wiped out simply due to human interference.
The continent of South America is home to 5 of the 10 largest coffee producing nations on earth, including the largest, Brazil- which produces approximately 32% of the world's coffee supply. Not only that, but it's also home to the Amazon, the largest rainforest in the world which is home to millions of insects and tens of thousands of other flora and fauna- the highest biodiversity levels in the world.
Caused by poor farming practices and deforestation, global warming has the potential to ravage local species and lead to catastrophic ecological damage. So, it really is doom and gloom, unless we do something about it.
Introducing the second blend in Cafédirects 3-part collection, Restore, centred around not only raising awareness on the impact of climate change, but actually DOING something about it. We could say, they put purpose where people's mouths are…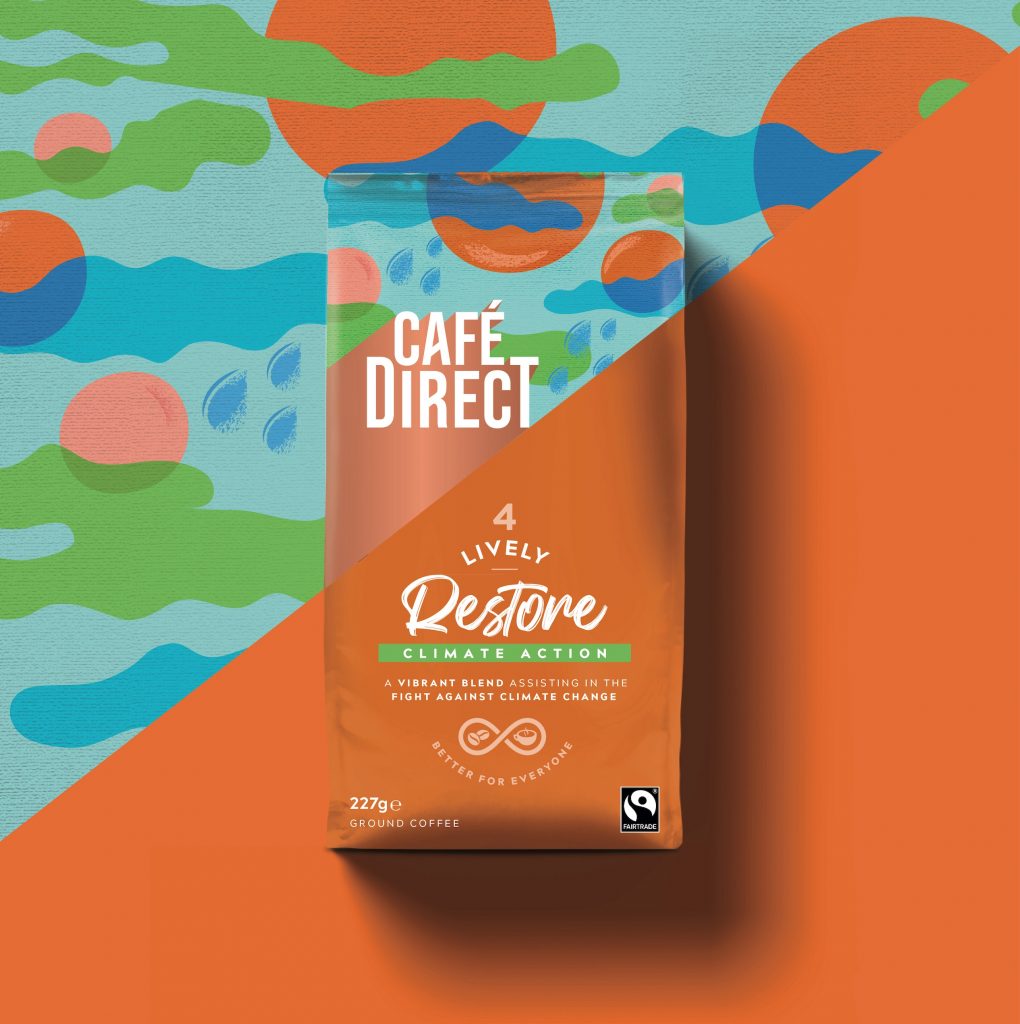 Restore is a lively, vibrant blend, a medium-dark roast with a full body and notes of caramel and roasted peanut. A delicious balance of body and strength, it does more than your average brew by directly contributing to initiatives working on abating the effects of climate change.
The Restore Blend is a 100% Arabica blend using beans sourced from across Central Africa and South America, offering a completely unique flavour profile.
And with each bag sold, a proportion of revenue is donated to Producers Direct, the grower-led partner of Cafédirect, who then invest in ways to alleviate the effects of climate change.
Once again, Producers Direct take centre stage as they work in tandem with Cafédirect to make real change for the lives of their coffee growing communities.
Training and technical advice in a range of farming practices include:
Eliminating chemicals and pesticides that are harmful to the environment and to health
Fostering nutrient rich soils that support healthy plants and quality crops
Planting trees and shrubs to absorb carbon from the atmosphere and improve soil health
Reducing greenhouse gases and generating cleaner energy
Conserving water to reduce water usage
Encouraging wildlife to help control pests and diseases
They have previously built centres for excellence in Peru and Uganda, specifically to provide support regarding environmental advice- and spearheaded reforestation projects elsewhere.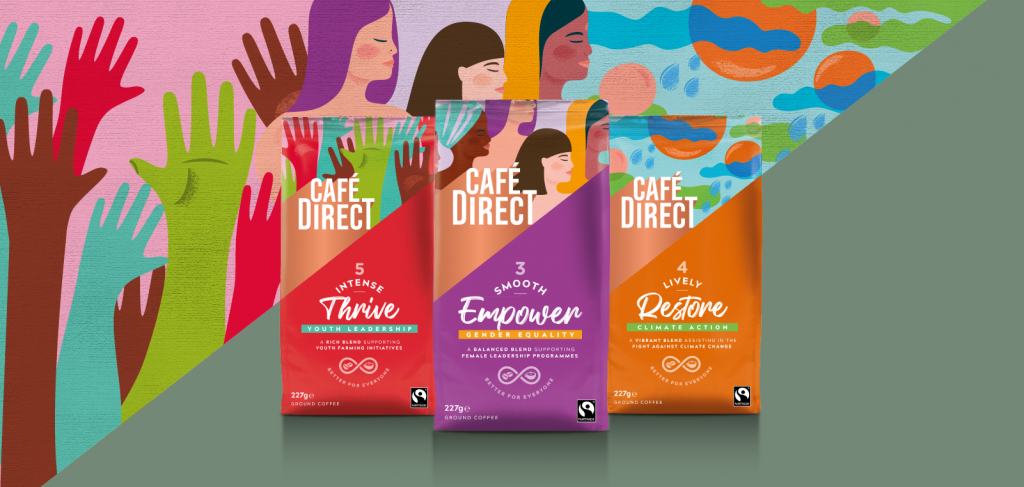 Restore takes real action to directly lessen the effects of climate change, helping coffee growers improve their yields and contributing to healing our environment for the good of the planet.
"It's about helping farmers to be aware of the range of options available to them, what they could do with the resources that they have, and what they might need to access. We support farmers with loans and finance for them to make bigger investments, such as water collection barrels. With support like this and by leveraging the farmers' knowledge and skills, together we can restore their environment."
Claire Rhodes, CEO, Producers Direct