This post tells a bit of the 'story behind the story' of the birth of ReBorn®. How the power of collaboration and a passion for sustainability led to the creation of arguably the World's most "circular by design" homeware brand.


Think about that nifty dish drainer that you replaced on your last IKEA run, the grubby washing up bowl that needs throwing out, or the random coat hanger collection in your wardrobe that really needs a cull…

But have you got any idea where all this stuff comes from, or how it's made?
The answer is invariably virgin plastic from China. New plastic, made from fossil fuels and shipped around the world. All at great cost to our planet. According to a study from the Scottish Agricultural College, virgin plastics account for 3.4% of global Greenhouse Gas (GHG) emissions through its lifecycle due to the resource-intensive manufacturing process.
Moreover, these products are often co-moulded, meaning that they're made of mixed materials that can't easily be recycled at end of life. Most of this plastic will end up in landfill and never decompose, potentially to be burnt on rubbish piles. And if it takes a plastic toothbrush up to 500 YEARS to decompose, how many years d'you reckon a washing up bowl takes?

To tackle this ridiculously unsustainable approach that we seem to overlook, and help to stem the ~70 million plastic household products being thrown into landfill per year, ReBorn® was… born!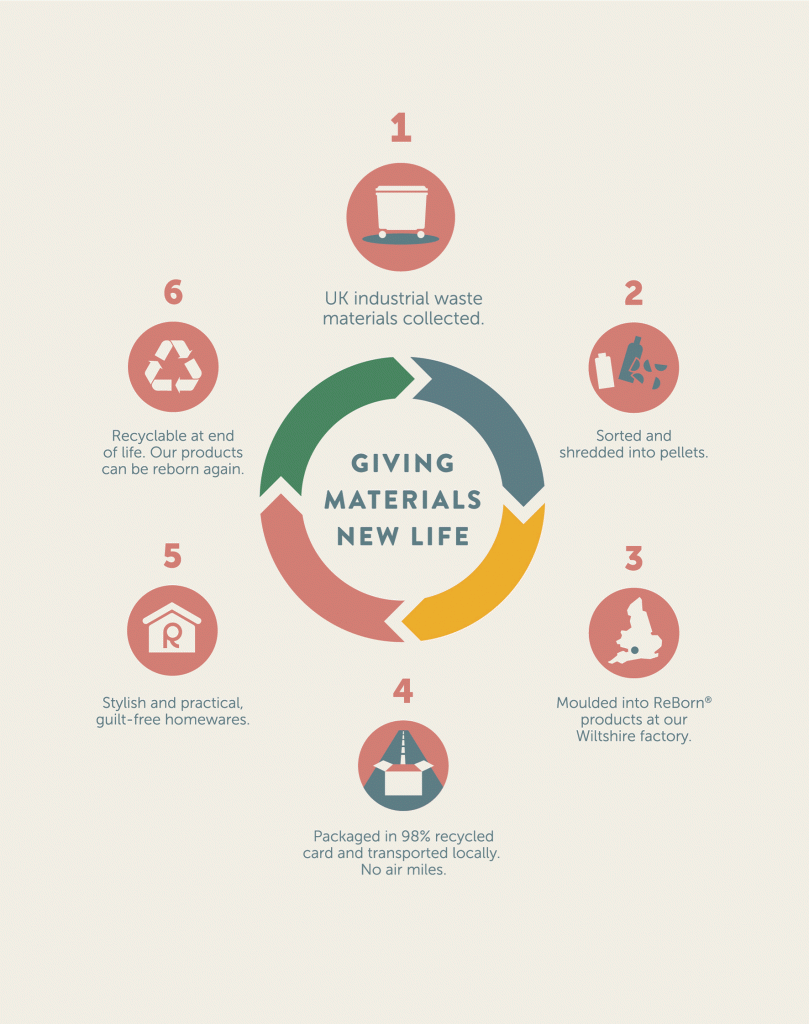 Giving Materials New Life.
ReBorn® products are all made in the UK from local waste materials and are 'circular by design'. This means that they can be recycled at end of life, resulting in lower carbon emissions, less landfill and a positive impact on the local economy.
Working in partnership with Biffa, the UK's leading sustainable waste management company, these waste materials, which mostly consist of wasted food packaging collected from Britain's factories are 'reborn' – transformed into new products at Plastic Engineering Solution's factory in Wiltshire. This beautiful innovation within the circular economy is one of the many reasons why we LOVE waste!
"At PES we recognise sustainability is key to all our futures and we are proud to hold ISO 14001 certification. Sustainability is top of our agenda every day, straight after health and safety. Similarly we are delighted to be partnering with Brian and the ReBorn® team for a remarkable and commendable project to help significantly reduce carbon emissions and make great homeware products at the same time!"
Rob Stringer, Commercial Director, PES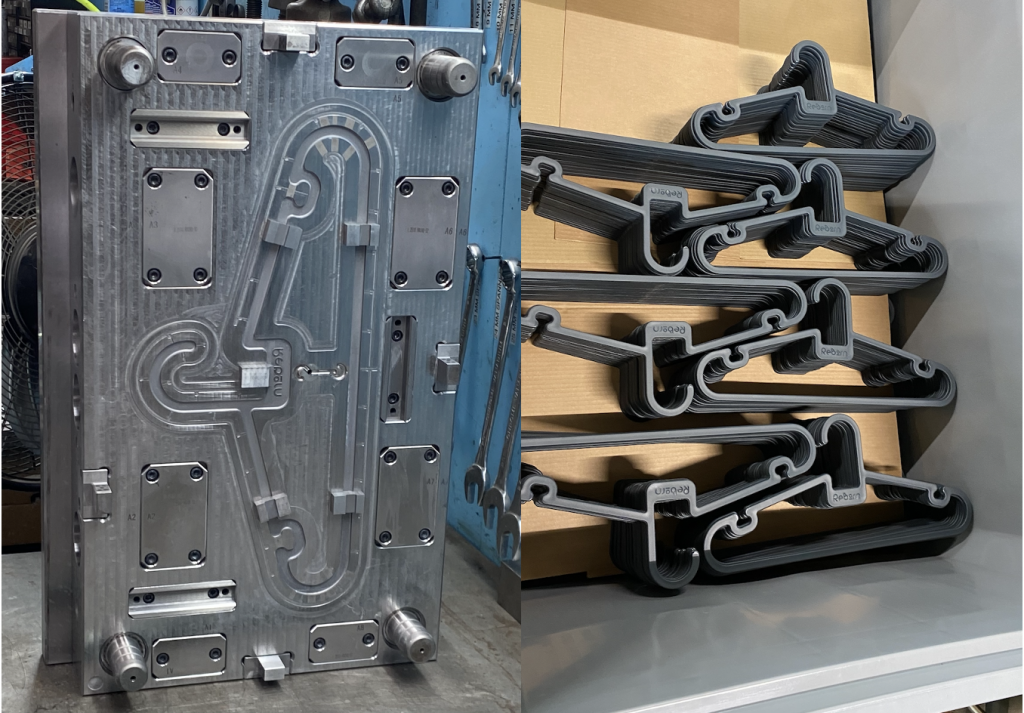 Every element of supply chain, from raw materials to packaging, supports local industries and eliminates the carbon footprint associated with international transportation.

The whole range has the seal of approval from Brunel University London's chemical engineering department, where the recycled plastic is quality checked for home use, durability and crucially, recyclability. The team will also track the product's lifecycle to compare its carbon emissions with conventional virgin plastic, imported products.
"ReBorn® promises to markedly reduce the number of virgin plastics the UK imports and, most importantly, contribute to efforts to promote a circular plastics economy," said Dr George Fern, who leads Brunel's Wolfson Centre for Sustainable Materials Development and Processing.
"This more circular approach can sizeably shrink the carbon footprint of the large UK homewares industry and in doing so, help the UK reach its net zero carbon goals."
Brunel, based in Uxbridge, is one of the UK's top universities for the engineering discipline and their contributions have been invaluable in testing the theory of ReBorn® from just a concept into a consumer product reality that is now creating UK jobs.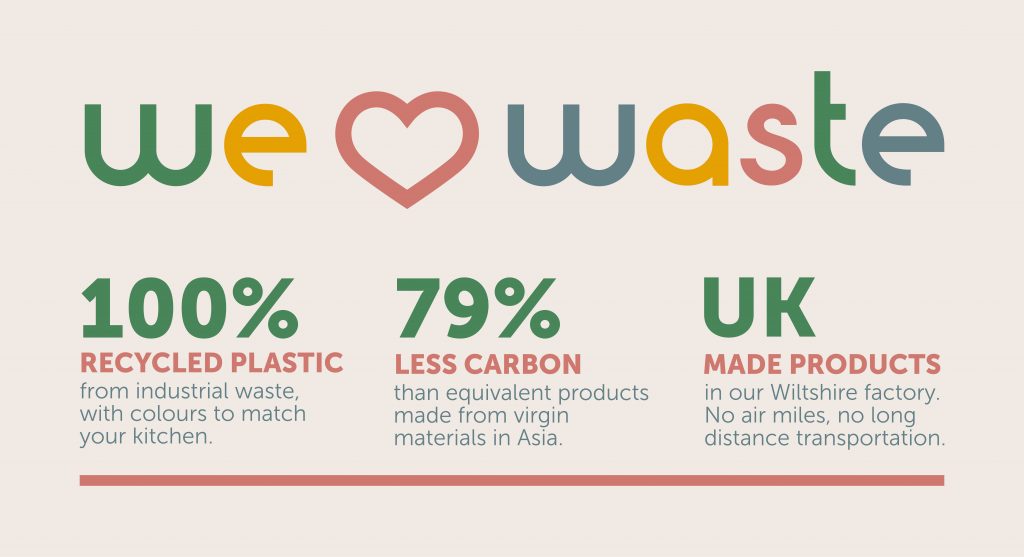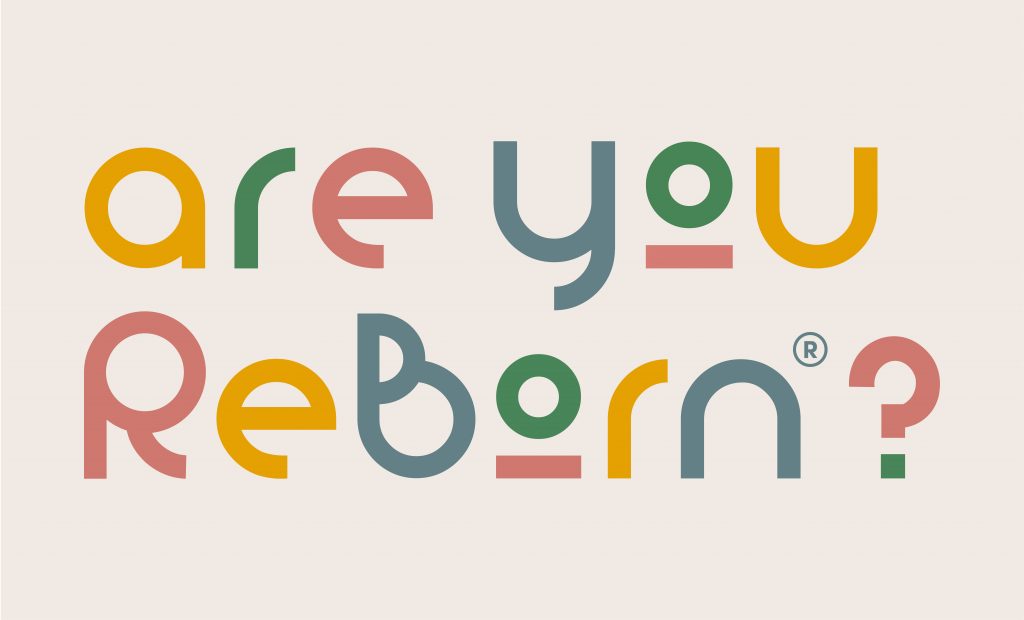 Funded by 'Collective Impact'.
By October of last year, (2022) ReBorn® was gestating smoothly; products and branding were being developed, talks were in progress with partner organisations in production and big plans for eradicating virgin plastic were in full swing. But up to then, the project had relied primarily on private and personal investments, so to really scale the business, it required external funding to realise.
Our Founder and CEO, Brian Walmsley, enrolled onto the Virgin Startup's 'Collective Impact' acceleration programme, a 10-week initiative bringing like-minded investors, founders and mentors together under one roof. Here, he learnt more about innovation and entrepreneurship to help get sustainable start-ups ready for investment. Not only that, but the programme was an overwhelming success in other ways.

Brian met with various members of the Virgin team and the Branson Family who resonated with his mission, subsequently deciding to invest in the company- and helping to realise our ambition to drive change in the homewares sector.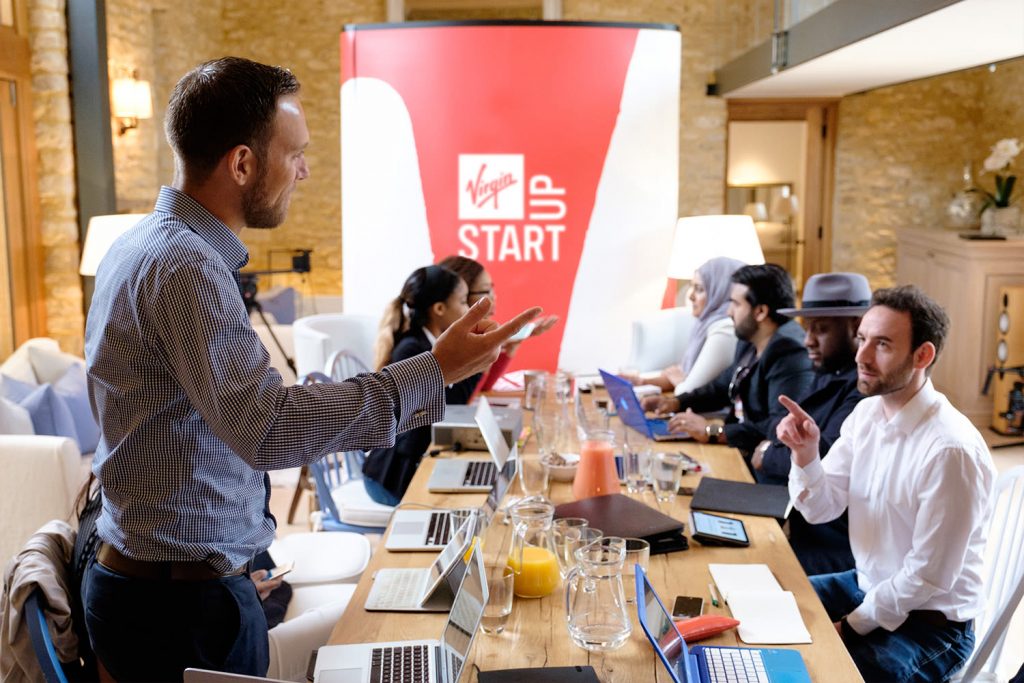 And aside from investment, the Collective Impact programme also helped to cement the ReBorn® ethos.

Our culture is all about empowerment and networking, with a view to transforming the sustainability of the homewares industry through collaboration. Throughout the brand's journey, finding suppliers, manufacturers and other collaborators within the UK has been highly challenging but necessary to stay true to our ultimate vision.

From this, we believe strongly in the ethos of "People, Planet, Profit", i.e. doing things that are right for people and planet first; and using resources (profit) as the enabler to make that happen.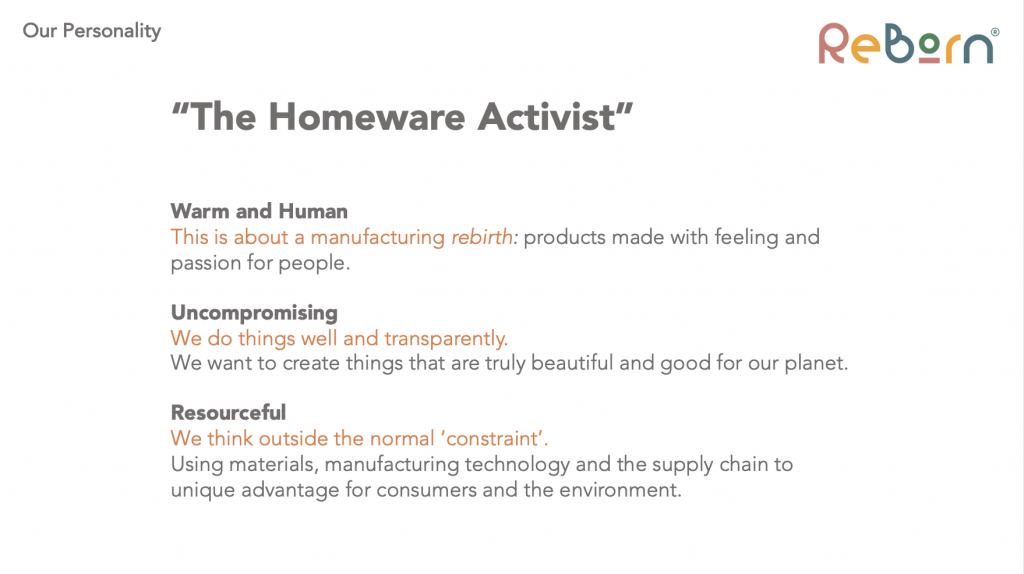 Making more considered purchases.
Our brand positioning is focused on the 'conscious consumer' – people seeking authenticity: better quality, ethical and ecologically focused products. Possibly people investing for the first time in homes, maybe enjoy shopping for new interesting brands, but also favour charity shop purchases.


"By choosing the brand, you're not only enjoying high-quality, beautifully crafted products, you're also helping transform the entire homewares industry for the better, resulting in 79% less carbon emissions than equivalent products made in the Far East from virgin materials".
Says Walmsley.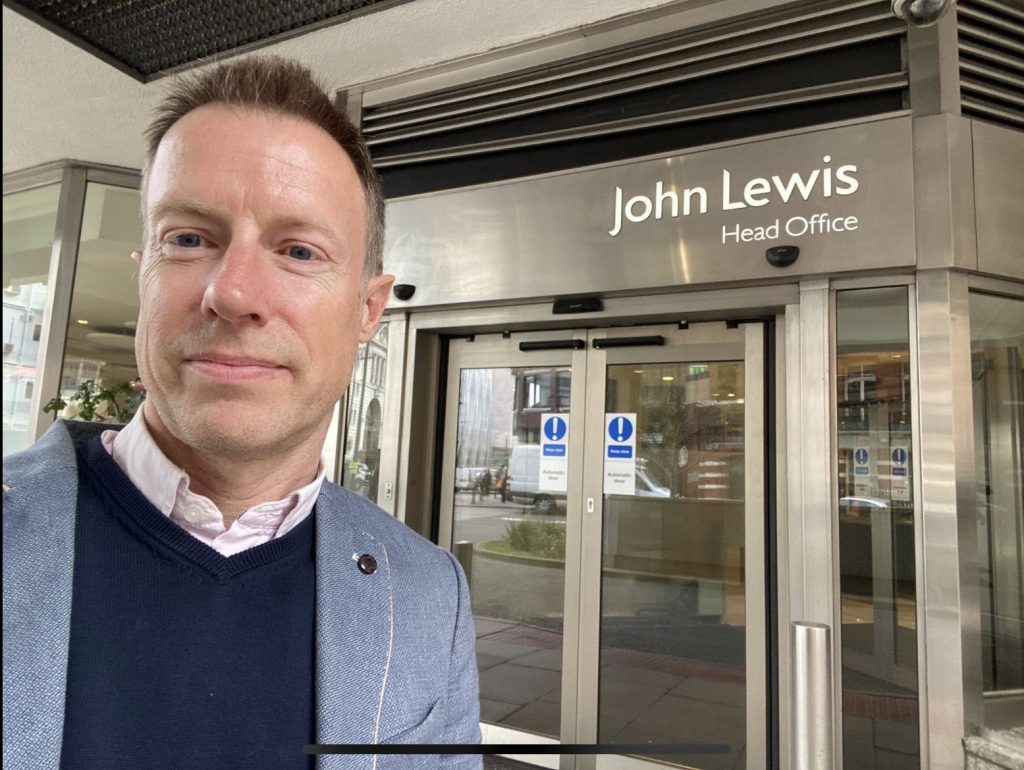 "All 15 of our products are now available at John Lewis & Partners (JLP), both online and in all their stores across the UK. This is a significant milestone for recycled products. Our combined team has poured their heart and soul into creating these products, ensuring that each one is not just functional but also a stylish, statement piece for your home".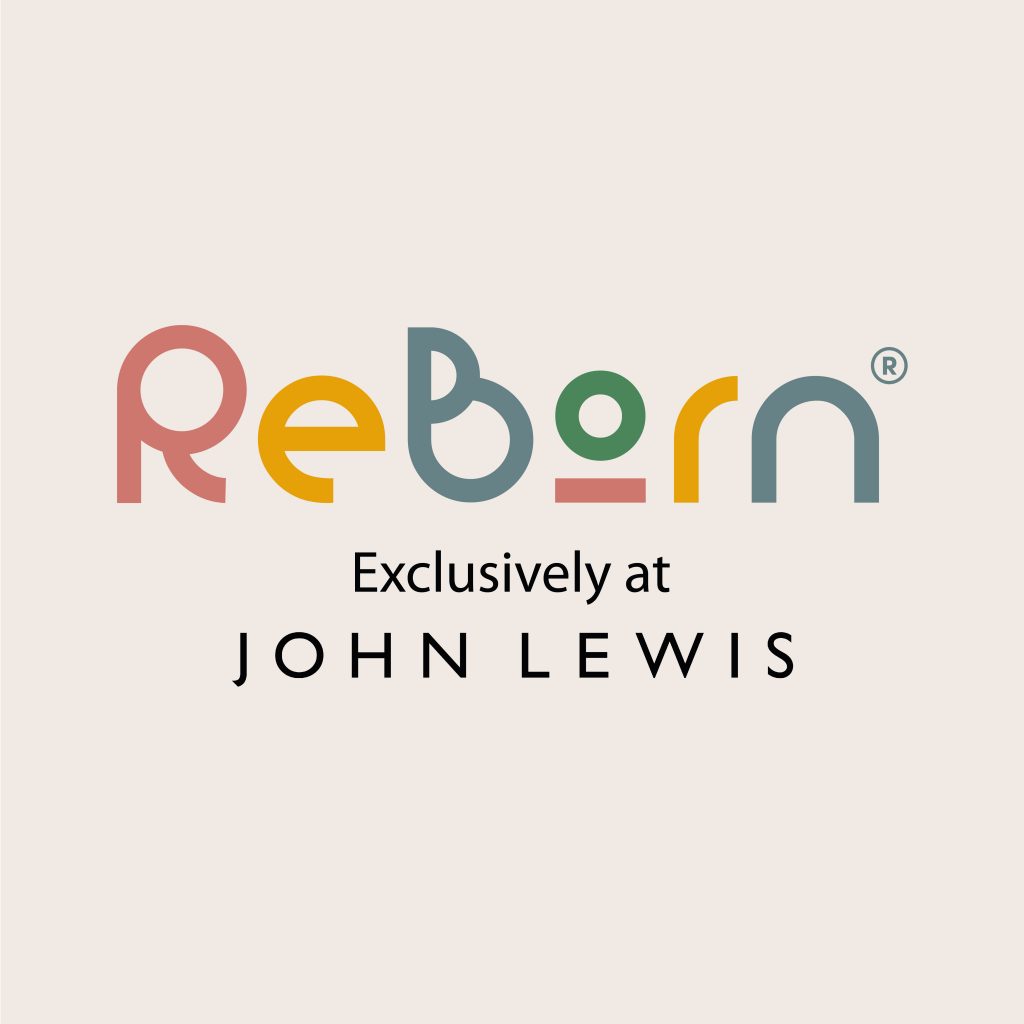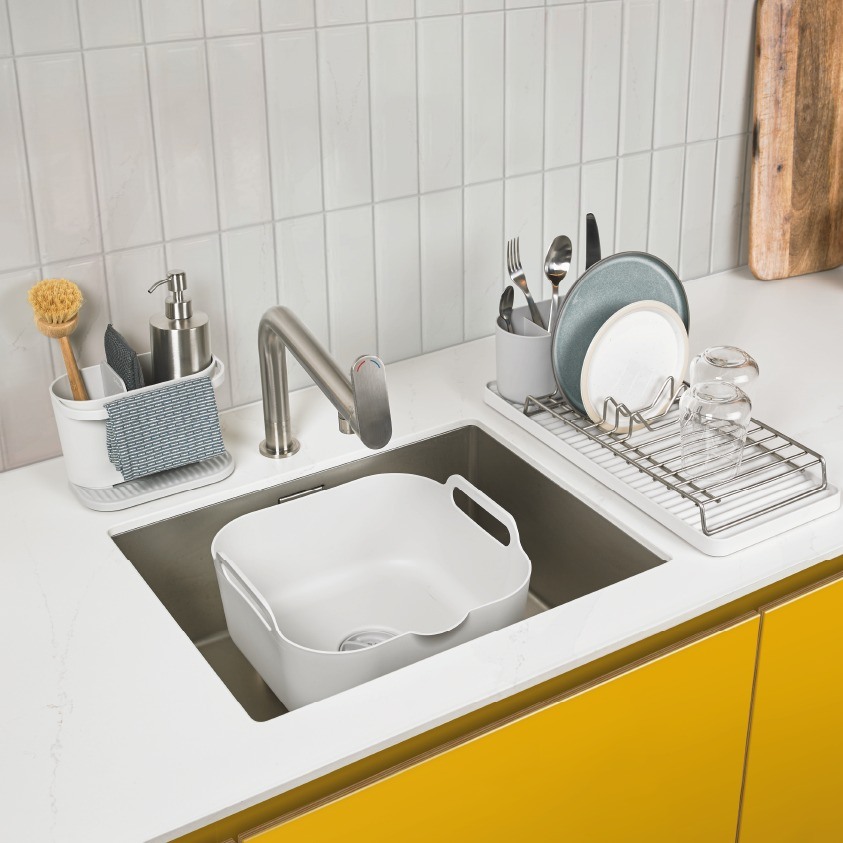 ReBorn® products are offered in a choice of light stone or dark grey, both highly adaptable colours which 'fit beautifully within your home' with a minimalistic aesthetic to slot into your kitchen, exuding class and quality. All the products were designed to be space efficient, useful, long-lasting and infinitely recyclable.

In fact, our 'ReBorn® (Again) scheme will aim to give consumers the opportunity to recycle their used products to be broken down and made into new products by us once more, a true category first.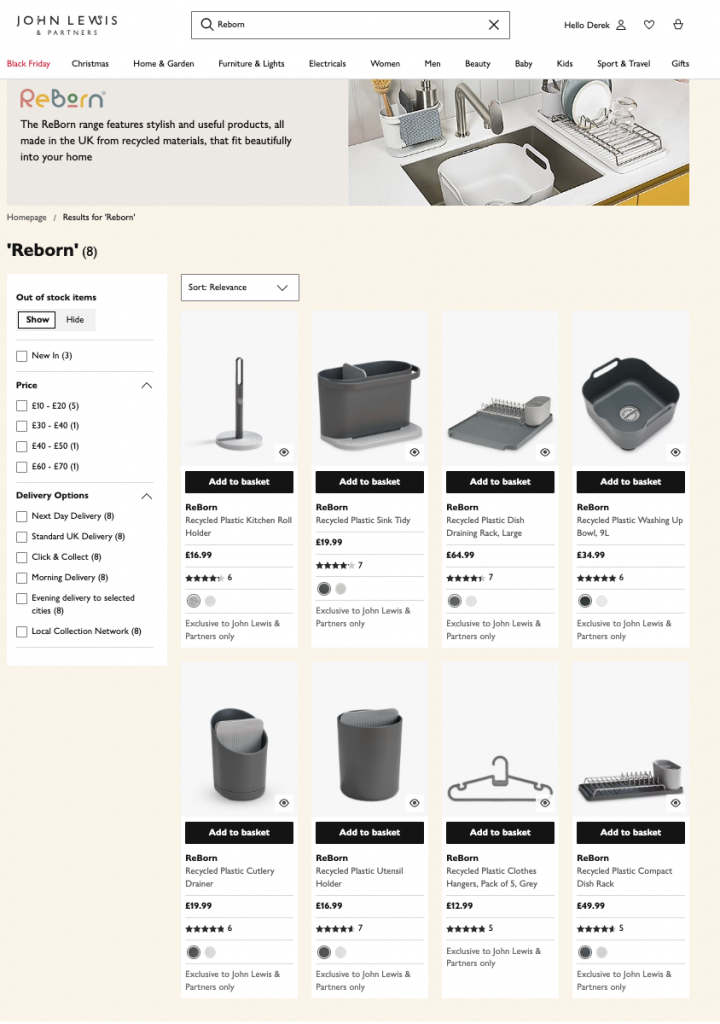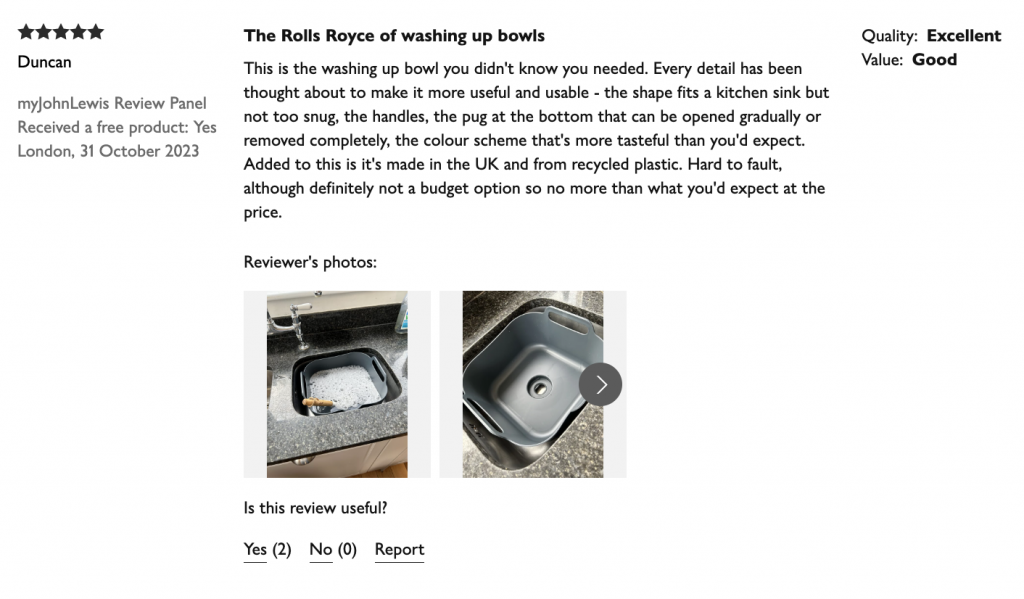 A team with a single goal to change the way we consume.

Family (and friends) have been partnering with Walmsley from the inception, developing the name, brand proposition, identity and packaging. We led with the consumer-facing proposition 'Giving materials new life'.

Our clear objective from the outset was to create differentiation at retail, using a bright and modern yellow laid on a light stone background which helps the range stand out on display versus the dark and tonal competitors in category.

We needed to ensure we communicated joy of use for ReBorn®, not just functionality, as this helped us develop a sense of collaboration and trust between the brand and the consumer.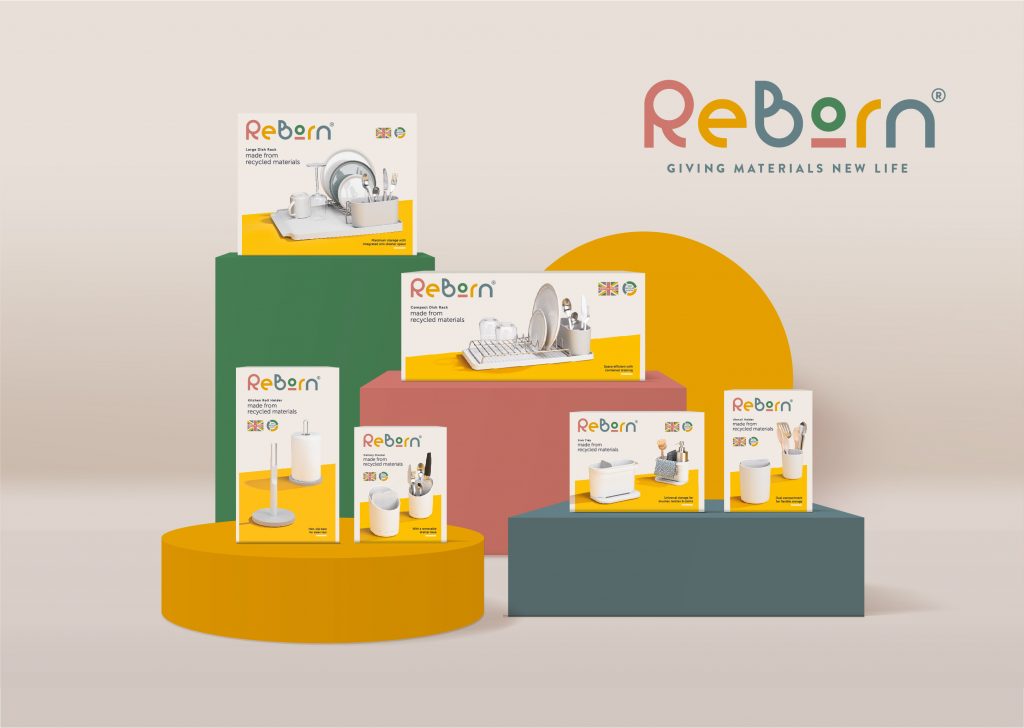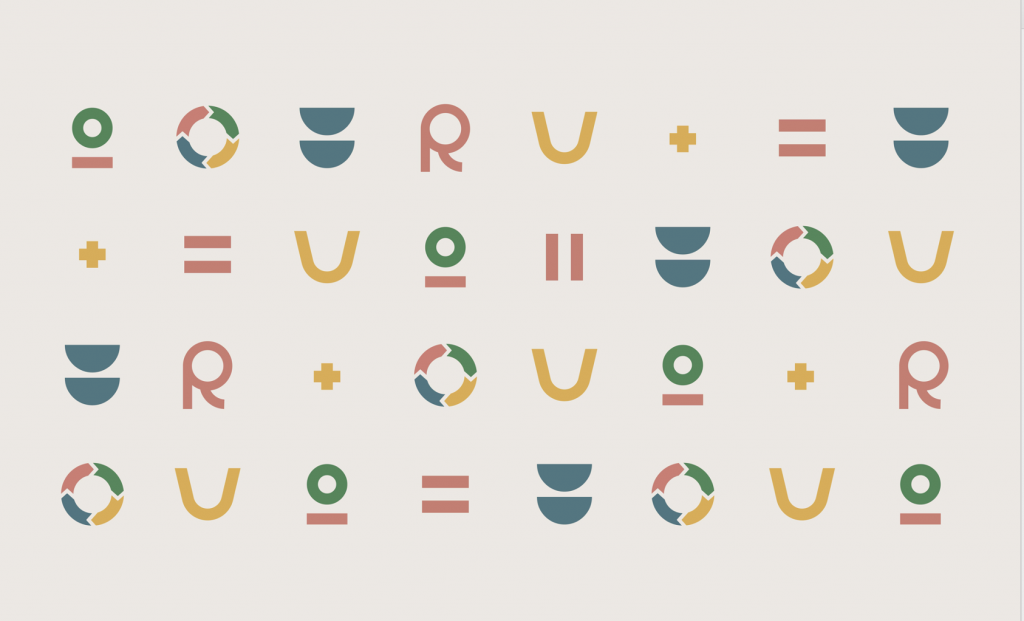 Messaging on-pack is centred around telling the ReBorn® story whilst also showing off the product features as concisely as possible.

Studio Davis, the innovation design studio based in Bath, specialises in 3D product design for FMCG brands and was a natural choice to create the functional, yet stylish range and have been part of the journey since the first discussions around this revolutionary approach to manufacturing.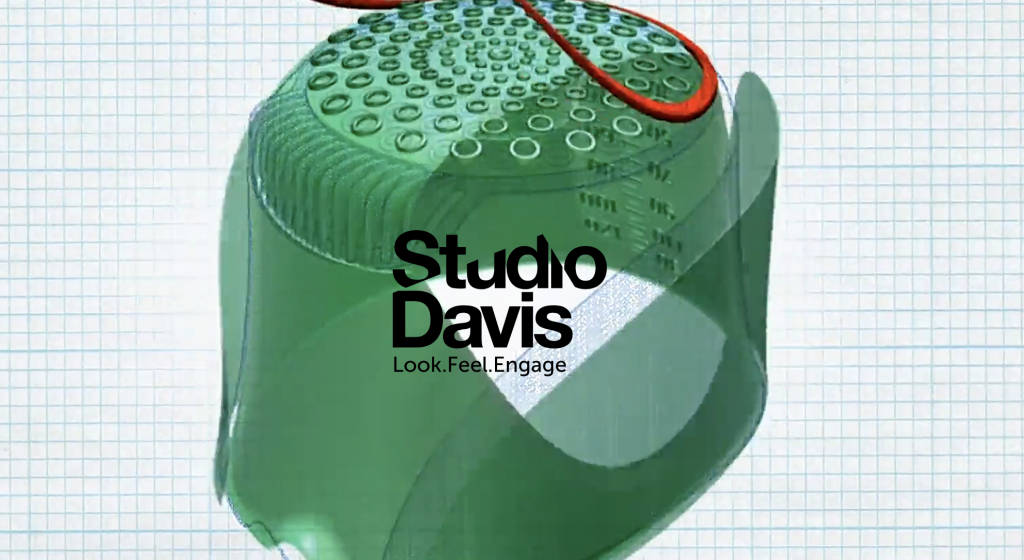 "The use of recycled materials, UK manufacturing and circularity of design provided a clear set of principles, opportunities and constraints for the launch range. We combined this with regular consumer input on both style and function, to deliver a compelling range in storage and cleaning."
said founder, Wil Davis.

"It would be great to see food grade PP one day attaining the same closed loop circularity as post-consumer HDPE and PET plastics. In the meanwhile, it's great to know our material is being used for such a sustainable and impactful purpose." Said Phil Goodier, UK Managing Director of Biffa plastics.

Retail 100, expert consultants in best practice for retailing in stores such as JLP, provided key support in brand positioning, identifying key selling features, packaging sourcing and operational support. Thanks to them and the rest of our team, consumers can shop the entire ReBorn® range in all 34 John Lewis locations across the UK and online.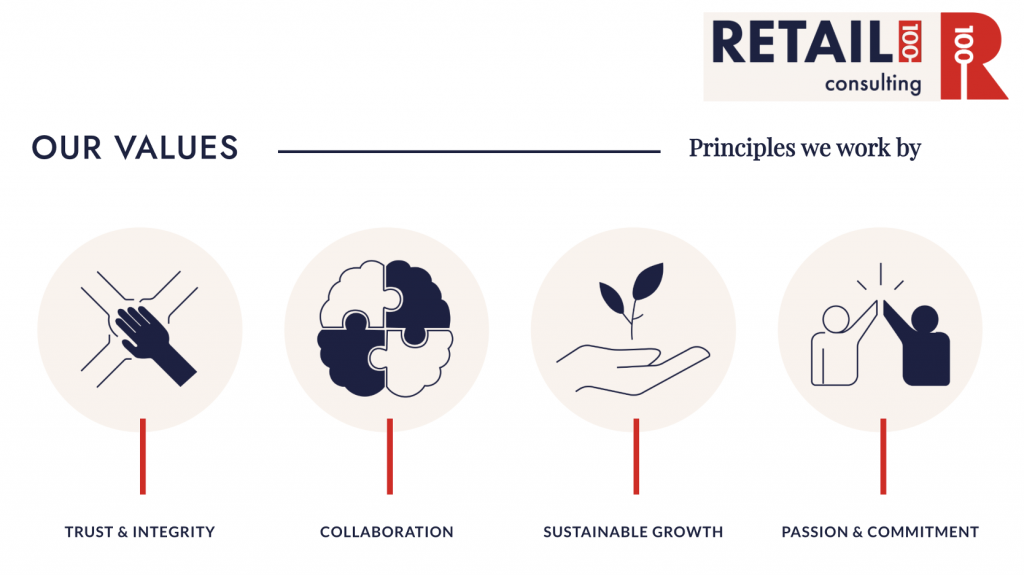 If you like what you've read, perhaps you'd like to bring a rebirth into your home?
Will you join us on this journey? It's only by working together can we achieve a more sustainable future. So please, do share the news with your network and try the products yourself either from John Lewis or the ReBorn website.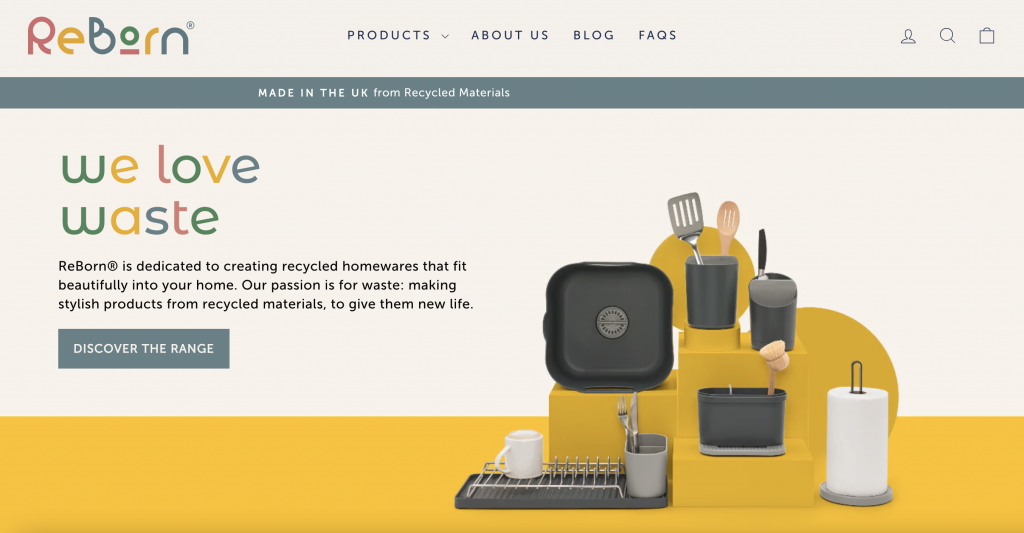 Hear more from our ReBorn® CEO Brian when he speaks at Virgin Startup's Changemakers Talk next week*. More on that soon!

* Wednesday, November 15, 2023 – 19:00 Dream Factory, London FREE.