The secret of happiness is a real 21st century quest.

Once upon a time just getting food on the fire and into the bellies of our babes was tough, and we dare say that would have made for certain visceral happiness.
But with time on our hands, (a bit of) money in our pockets and pizzas in the fridge, many of us now have the time to focus on what brings us joy on a much more intellectual level. A nice 'first world problem' to have indeed.
Happiness is big business; there's a plethora of self-help guides, big theme Ted talks, or The School of Life therapy sessions, and of course The CEO of the Happiness Research Institute in Copenhagen, Meik Wiking (famous for bringing us Hygge) has now published the phenomenal book of Lykke; or Danish happiness explained.
Philosophers, and more recently Economists, have been using the 'Hedon', an entirely abstract unit, to measure pleasure gained vs. investment. Everybody's looking for an answer.
Happiness is a valuable business, not just driven by money, but by genuine connections with people, ideas, and in our world, brands.
Happiness is a big theme for us here at family (and friends). Foremost in our thinking is finding ways to add a spark of joy to the everyday shop, the spark that converts passers-by to long-term lovers.
Serving ourselves with happiness.
Although the world's first true self-service store apparently opened in Memphis, Tennessee in 1916, it wasn't until after the Second World War that the idea caught on in Britain.
Sainsbury's first self-service store opened in Croydon, Surrey in 1950. As Alan Sainsbury found out to his cost, the concept wasn't universally popular. When one customer realised that the days of simply handing over a shopping list were numbered, she reputedly showed her disapproval by taking the wire basket she'd been given and throwing it at him!
These days however we couldn't imagine not having the opportunity to choose for ourselves, or at least think that we are choosing for ourselves.
Shopping on the brain.
Neurologically, shopping exists on a spectrum with other experiences and products, from chocolate to sex, that activate the brain's substantial reward pathways, prompting activity that makes us experience pleasure. Someone who really started the trend for observing happiness was the neurologist David Linden, in his 2011 book The Compass Of Pleasure, explains that the experience of shopping triggers dopamine circuitry in the brain's mesolimbic pathway, which is a key part of how we experience entertainment and happiness.
In the same year, the Nobel Prize winning psychologist Daniel Kahneman published his bestselling book Thinking Fast and Slow, where he clearly lays out the workings of our perceptual (fast) brain and reflective (slow) brain – System 1 and System 2 as they've become commonly known. Both functions are essential to brands, to help attract, then anchor them in the minds of consumers.
Branding is unquestionably about creating long-term relationships and experiences, ones that can be trusted and are built over time, but you do have to connect to consumers very quickly, both in store and online.
We believe that if brands can convey that 'spark of joy' on shelf, then consumers will engage and sales will increase. Everyone's happy.
Do you have the spark?
At family (and friends) we help identify that spark at the heart of a brand as part of our creative process.
Whether revisiting and existing brand, or creating a new one, developing a ShelfHappy™ approach calls for a robust approach to branding. We work closely with our clients, neuroscientists, behavioural and trends specialists to uncover genuine, market, consumer and brand truths.
Simply put, ShelfHappy™ is all about testing brave ideas and delivering great results through crafted design, but we always look to shore up three key elements:
Step 1. The reason to believe.
Our approach is always to identify the one, BIG, BENEFIT DRIVEN IDEA that will resonate with retailers, shoppers and stakeholders alike. We believe that big idea needs to be clearly presented on shelf, not hidden away in a theoretical marketing document that nobody refers to.
Step 2. The brand's personality.
With that big idea in place, the task is then to ensure that brand's PERSONALITY is clearly communicated. Have you really considered what that personality is? Do you know where to begin to identify it?
Step 3. The cut-through clarity.
IMPACT is essential. Too many claims and too many places to look on pack just turns backs, not heads. By carefully analysing what you have, what you need to add (or even take out), to gain clarity and impact.
Getting good performance on shelf.
Add all this together and you can be reasonably sure you have put something on shelf that will pass the 'dateable' test; admired, picked up and taken out. And as concepts such as Amazon Go arrives here in the UK, the speed-dating process is becoming even faster…but more on this another time.
Contact dj@familyandfriends.uk.com for more on our ShelfHappy™ approach.
Some brands we've made happy on shelf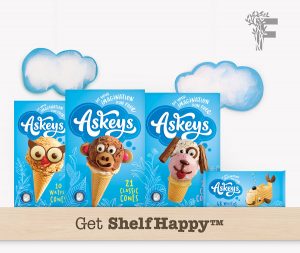 Good to go.
The hugely successful online snack brand wanted to diversify its offer into retail and sought our guidance to get the brand off to a good start in store.
Our job was to help ensure that the on-shelf packaging was match fit, by maximising product story and brand impact across the range. It was vital to help consumers navigate the offer across the various snack combinations.
The launch achieved more than 12m snack packs in stores in first 12 months and now stocked in over 9,000 UK and 7,500 US stores. Now with £40m sales value and the UK's number 1 snack brand.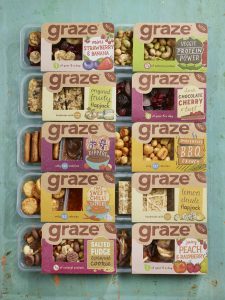 Having fun.
Askey's is all about bringing the love of HOMEMADE FUN back.
Families are looking for variety, something new to brighten up treat occasions, and they want to feel like they're being creative with food as well as their household budgets.
So, we decided to make homemade look easy to imagine at home.
Working with Silverspoon and NeuroStrata's research techniques, we adopted a design theme featuring homemade, friendly and outward looking faces on pack to create attraction and appeal.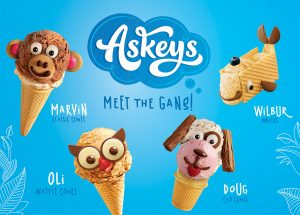 Joyfully blooming.
As well as being 100% organic and ethical, only Seed and Bean makes chocolate with such unique, natural, broad and adventurous flavour combinations.
We've captured this truth in a kaleidoscopic, flower-like branding theme, with a range that uses the entire visible spectrum.
The solution is uniquely impactful and successful tool, having driven sales hard by tripling turnover close to £1m in under 24 months with no other marketing support.