Morning Foods is one of Britain's oldest family businesses, having been milling oats for almost 350 years.

Family (and friends) have partnered with the company to radically revitalise its Mornflake 'Mighty Oats' range, bringing to life the brand's future positioning as a true leader in modern milling.
15 generations of quality farming and milling.

Morning Foods is one of Britain's oldest family businesses, having been milling oats since 1675. For generations the company, through feast, famine, war and peace, has been making core staples like porridge oats, oat bran and oatmeal under the Mornflake brand, created back in the 1940's.
Morning Foods contributed to the rising popularity of oatmeal at home in the 40's, and the Mornflake brand was a vocal voice in the 'feeding the nation' wartime campaign. It has since become a classic heritage brand in the cereal aisle.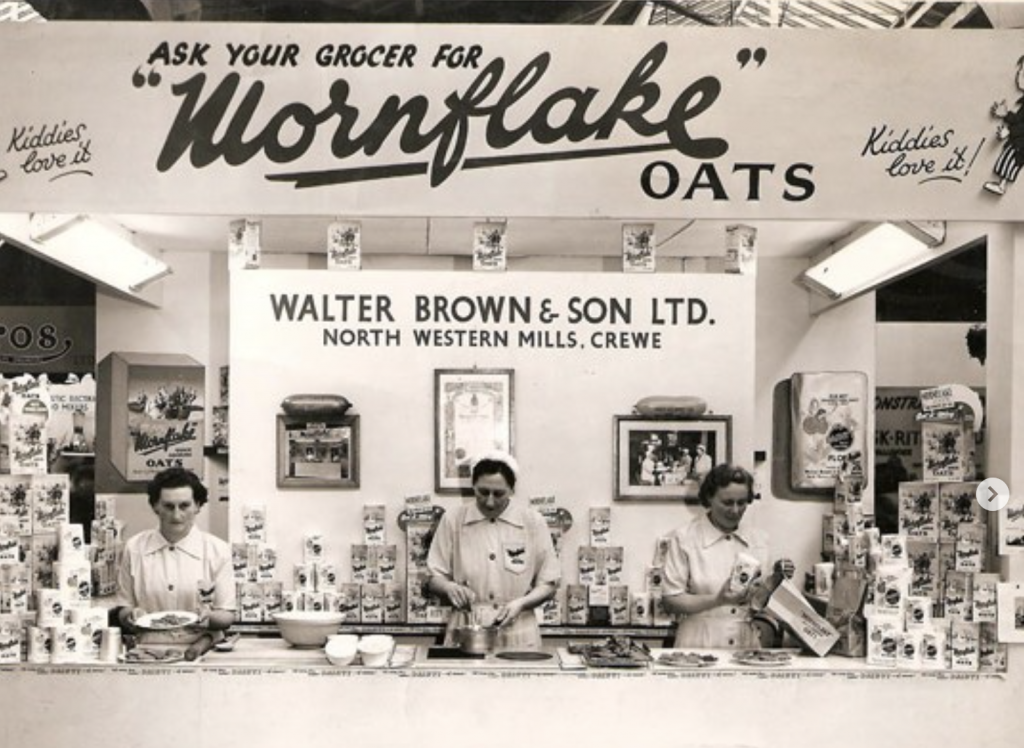 Mornflake approached F&f to review their packaging range to ensure the brand looked both premium and relevant, especially in the minds of younger consumers.
But how do you go about adding real value to commodity goods?

It soon became clear that the brand's positioning and image needed a deep review – not only to avoid being seen simply as a heritage brand, but importantly, to elevate and communicate the company's genuine commitment to pioneering ethical and environmental goals.

Oats, the ancient superfood.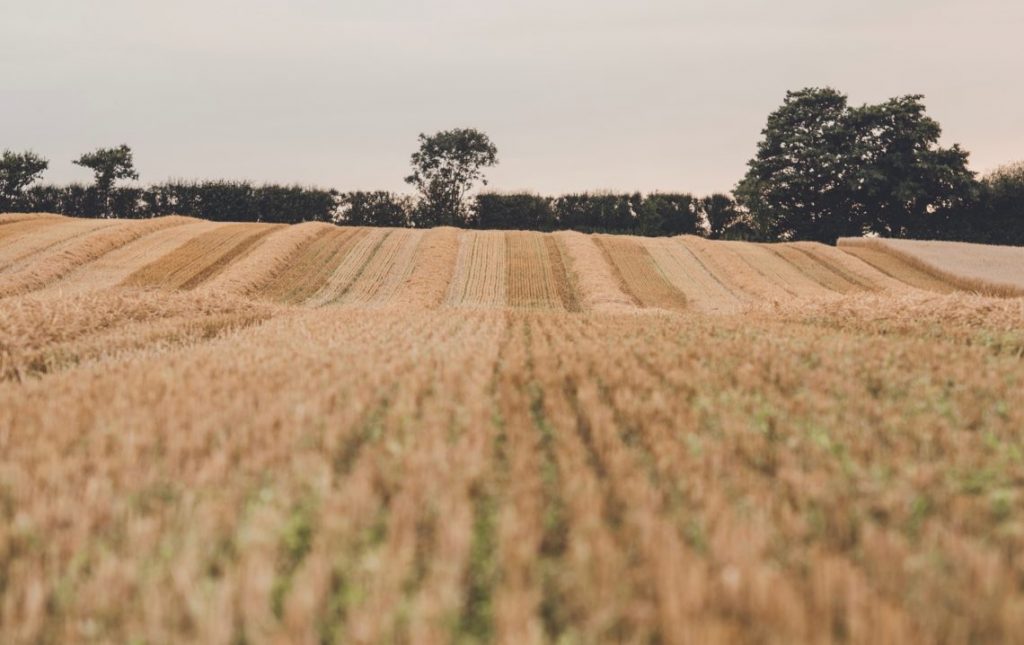 There's huge and proven health benefits of combining oats into our diets; lowering cholesterol, maintaining a healthy heart that provides a great source of fibre and positive energy for our bodies. Its also rich in protein and hard-to-get nutrients like phosphorus, magnesium and zinc which contribute to improving tiredness and fatigue, keeping you alert and focused throughout the day.

Unrivalled eco-credentials.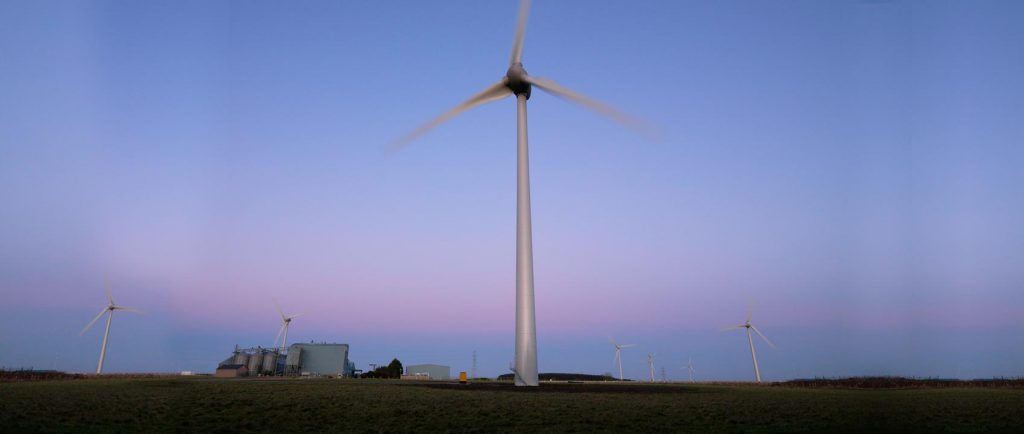 The Cheshire based company has a mission to be the most ecological oats producer in the UK, if not the world, using its own wind turbine and solar power, and by definition, can claim to be carbon neutral millers. Their wind turbines were first constructed over 10 years ago and power the entire mill, feeding any unused energy directly to the national grid.

And being a family business, there's also a genuine passion to be a good employer and a positive force for kind to nature farming practices and local, low food miles production. It's a company that's 100% focused on people and the planet, with 0% greenwash.

So a new proposition was born based around the idea of Mornflake being "A Force for Nature".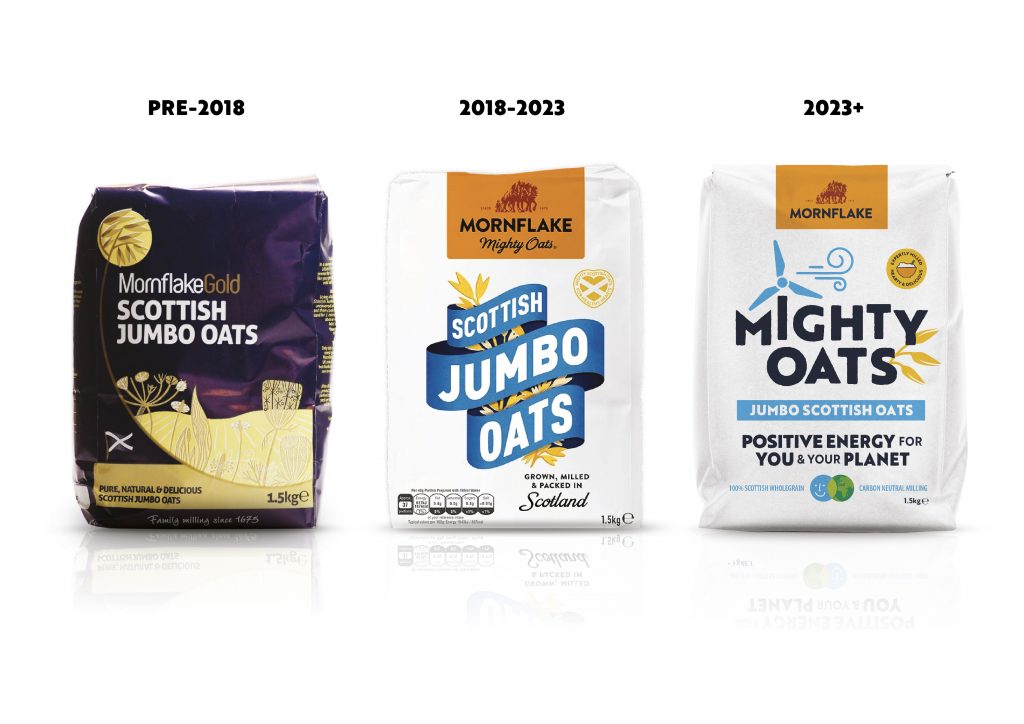 Using well-informed insightful truths to segment the target audience, F&f developed the proposition: "To make only healthy energy for people and the planet for generations to come". This effortlessly connects the health benefits of oats, a truly under-appreciated superfood packed full of positive nutrients for the body, with Morning Food's genuine passion for sustainability, use of 100% clean energy and a drive to see change for the future of food production.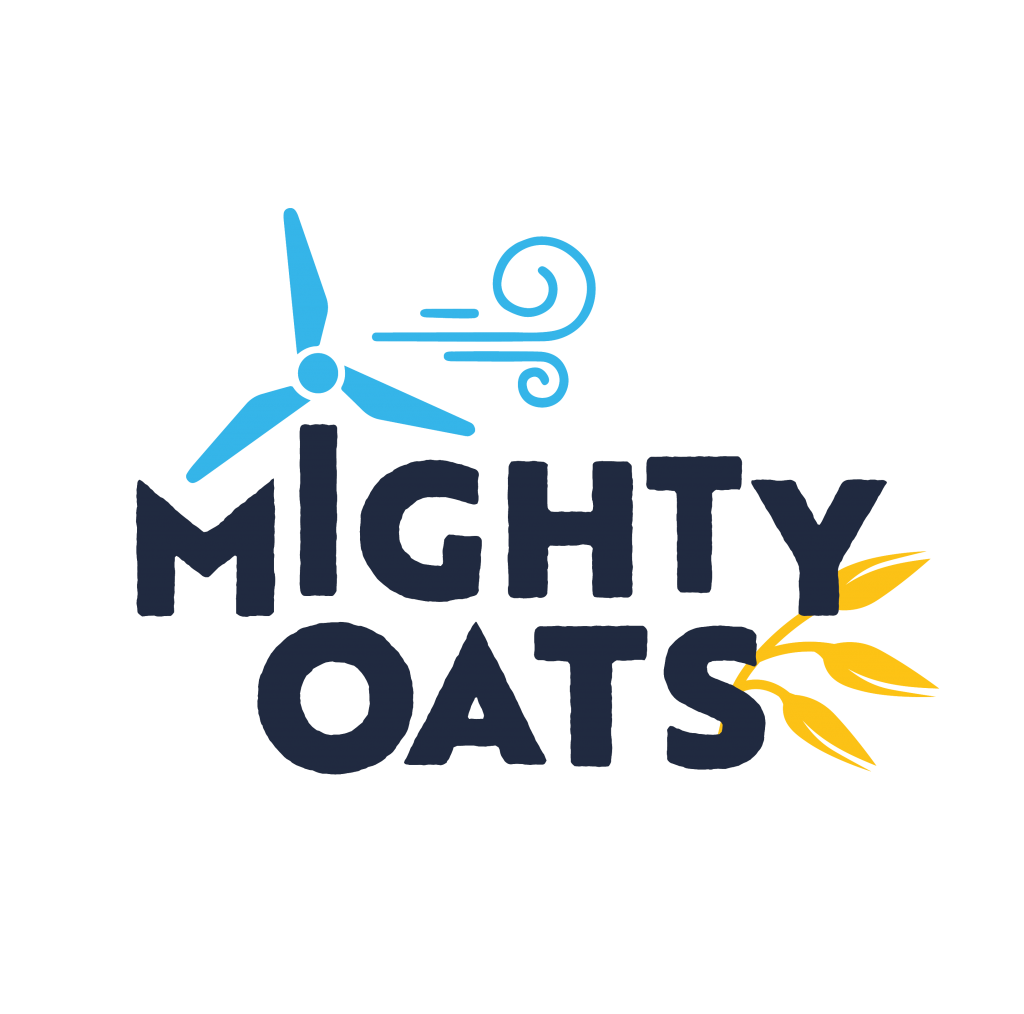 A brand building Challenge.

Translating this new proposition into 'ShelfHappy®' packaging would require something of a polarity change – a switch from Victorian style banners and horse drawn ploughs, to a modern farming and milling image, whilst not throwing away important brand codes in the doing.
'Mighty Oats', once a brand sign off, has been elevated to the role of brand – symbolising the power that oats have to provide that dually positive energy.
We also used wind turbines as visual devices within the hero brand, both to move away from the conventional imagery of traditional windmills and highlight Mornflake's dedication towards running a carbon-neutral mill.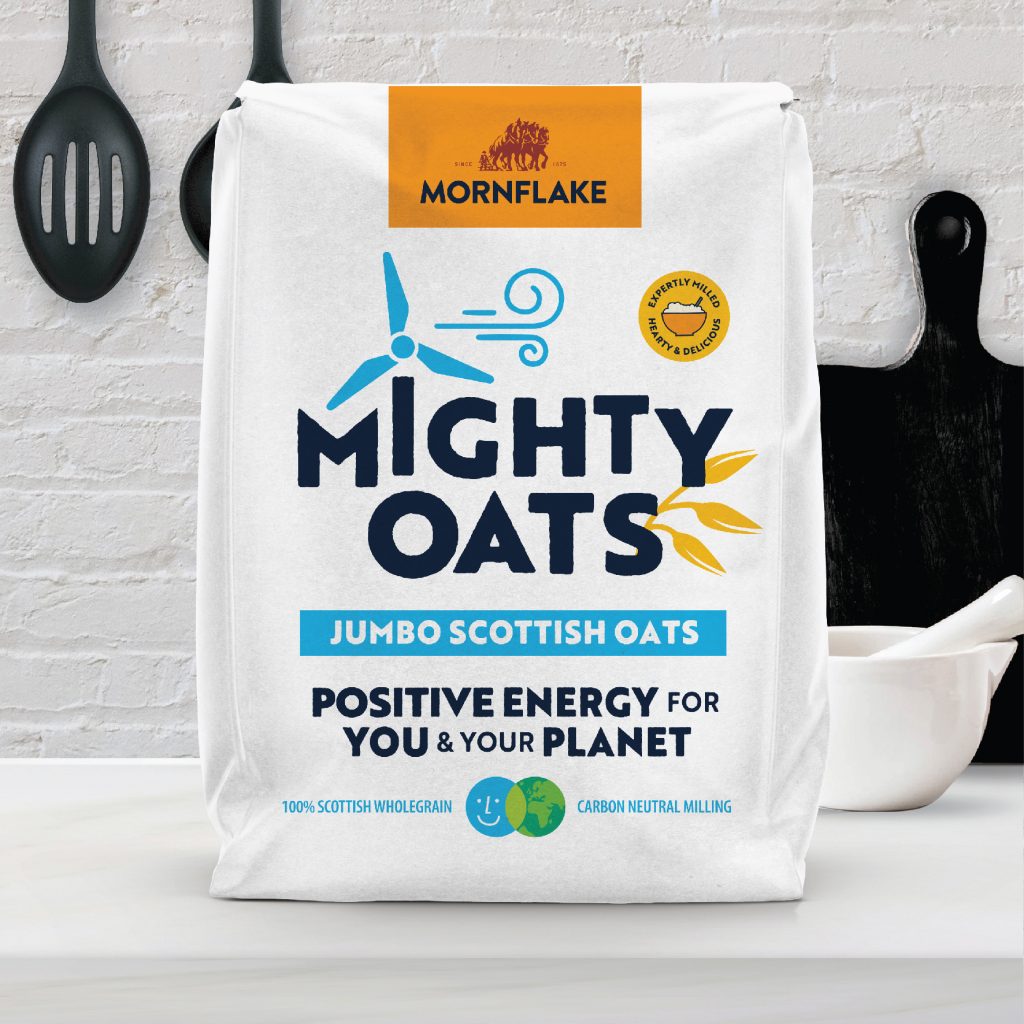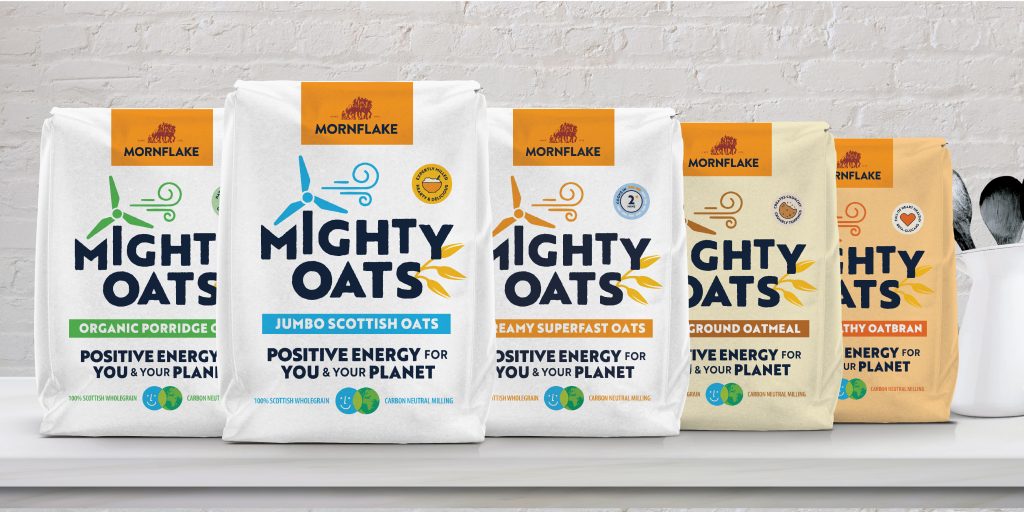 Combined with manifesto-like messaging and poster style graphics supporting the story 360° on pack and through social media and other marketing, the new image brings to life the brand's positive, warm and socially focused personality. We wanted to develop a ShelfHappy® look where you can pick up the pack at retail POS, turn it over in your hands, and immediately learn the entire brand's story and mission in producing pure oats using clean energy. This shows genuine impact and maximises brand salience to the consumer.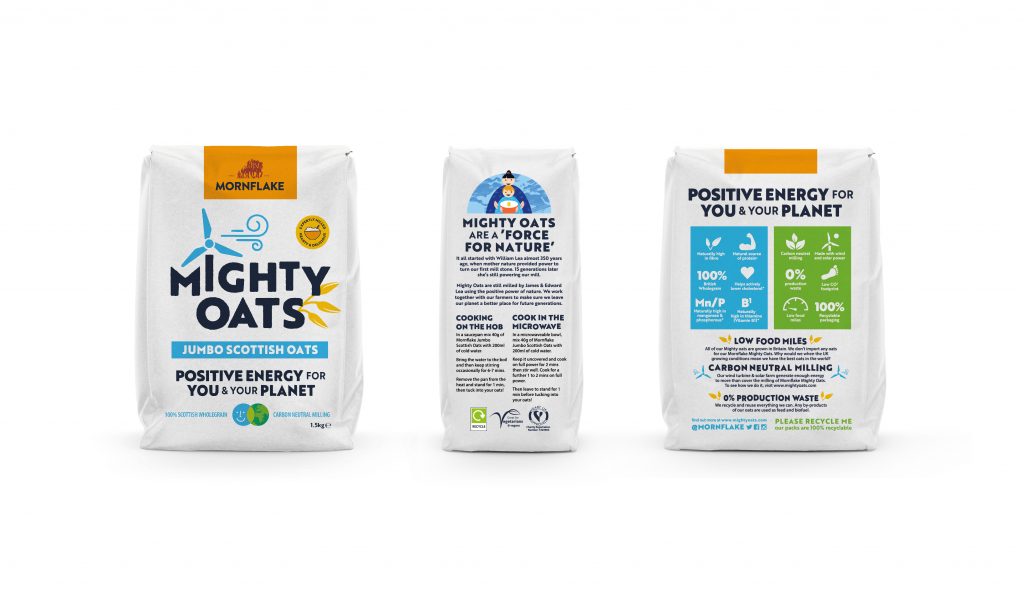 "The radically revitalized branding aims to create some genuinely exciting category disruption; maximizing both stopping power and appraisal at retail. Gone is the old, traditional image of the porridge oats category as the brand ushers in the future, presenting at point of purchase the proposition as a truly sustaining and sustainable superfood for generations to come."

DJ Johnston – Strategy Lead at Family (and friends).
We believe Mighty Oats is something disruptive and exciting, taking the oats category in a new direction, but respects the long-established provenance and rich heritage that Morning Foods have built up over centuries of milling. F&f acted as a creative conduit, guiding the brand from its classic and traditional roots towards a radically revitalised and vocal voice on shelf; while repositioning the brand as a British leader in genuinely positive health and clean energy in the future.


The new look will be hard launched to consumer retailers, including Waitrose, next month in the week of May 15th.