We feel that in the last decade, the craft/speciality coffee category has become far more relevant in consumer's minds- particularly throughout lockdown, as many became obsessed with brewing as a hobby to keep busy.
This is shown by the emergence of the London Coffee Festival, as well as various other annual celebrations founded to appease coffee connoisseurs, in addition to the widespread influx of independent coffee roasters appearing all over the country.
In fact, craft and speciality coffee has made a bit of a resurgence in consumer mindsets over the last decade or so. The 90's and 00's brought with it a heavily oversaturated global coffee supply as new markets were rapidly introduced to the industry, hiking down prices as well as quality- but also reducing income for coffee farmers. Many specialist growers collapsed as a result, and coffee was seen less as a luxury good and more as a mass-produced commodity.
But today, consumers demand an engaging story and personality to truly resonate with the brands they use, citing quality and provenance as their primary purchase motivations. With their passion, attention to detail and strong mission statements, speciality and craft coffee brands have been welcomed back into the spotlight for savvy enthusiasts.
This craze has spread rapidly with new brewing and grinding techniques popping up year on year. Craft coffee is now perceived as a sort of art form comparable to wine tasting- each roast and variety offers a different taste profile and experience and so more focus is put on quality, provenance and processing methods to maximise consumer enjoyment.
In addition, brands are constantly looking to expand on these unique flavour profiles by introducing specialist hybrids and rare varieties grown across the globe. This is in part due to many farmers enjoying the most R&D investment they've ever had, thanks to Fairtrade and companies like Cafédirect- who are investing in farmer infrastructure and education. But how do these brands raise awareness on their unique offerings and build a platform at retail? Enter: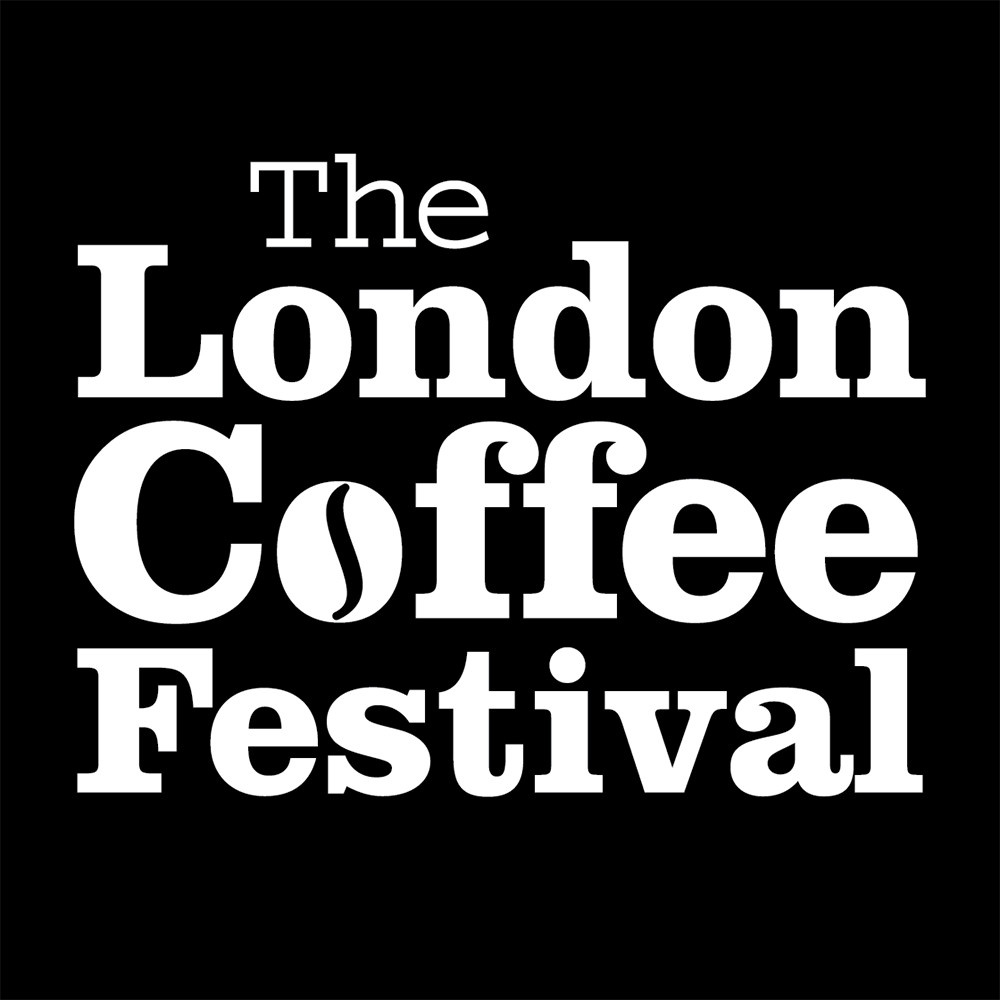 Last weekend (20th – 23rd April 2023), an estimated 30,000 of the most creative coffee connoisseurs and industry professionals across the globe descended upon the Truman Brewery, located on the iconic Brick Lane, for the annual London Coffee Festival. It's a full show open to both industry experts and the public, housing over 250 exhibitors from across the speciality coffee and ambient categories- from paper packaging to potato milk (ring any bells…?). And at fear of sounding cliché, there was genuinely something that would appeal to everyone.
Having long-time partnered with some of the most responsible and wonderful coffee/tea brands out there, like our friends Cafédirect (more on the successes of our relationship with them can be found here), our intrepid designer Matt and handy brand strategist Sol made the trip 'down the east end' to visit on Thursday- Here's what they got up to!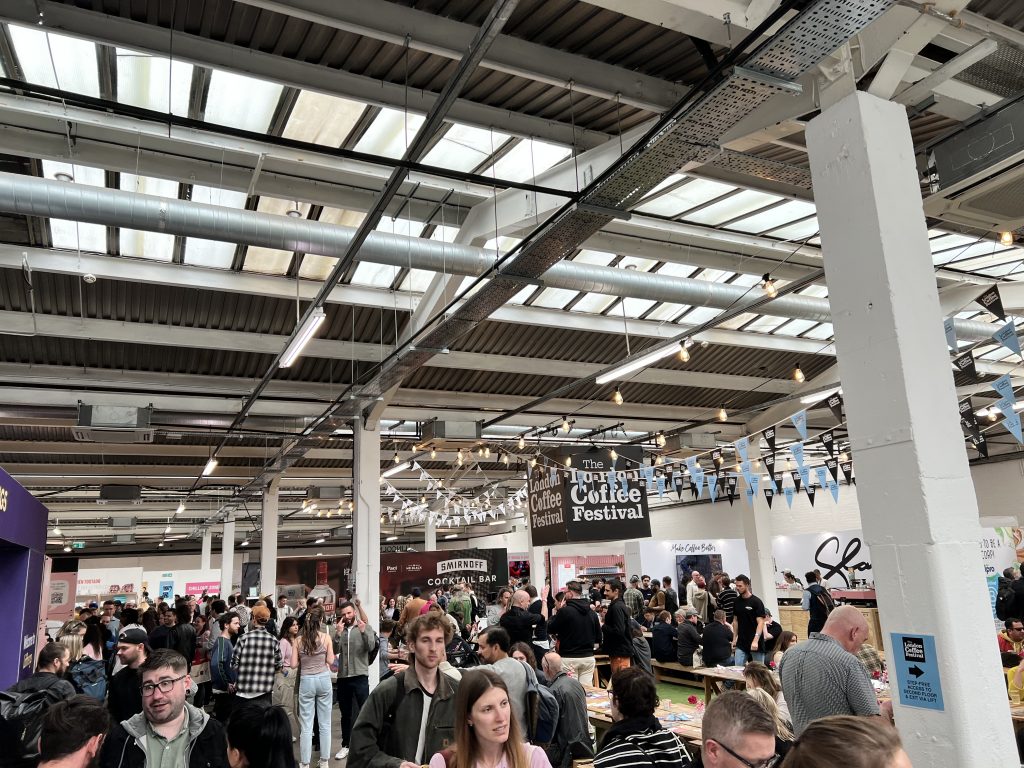 "Thursday was a packed day for Matt and myself, namely due to the gallons of coffee we sampled; sounds like a successful day, right? We went to check out the London Coffee Festival in part due to wanting to catch up with several clients, but also to explore the coffee category and soak in the atmosphere. So, industry passes ready, we left the colourful vintage markets of Brick Lane and headed into the Truman Brewery.

Immediately hit by the familiar aroma of rich java, we started making our way around the maze of stalls housing grinder demonstrations, packaging and substrates, FMCG goods and LOTS of coffee roasters, all serving samples of their products in the hope of picking up some interest from retailers and category experts".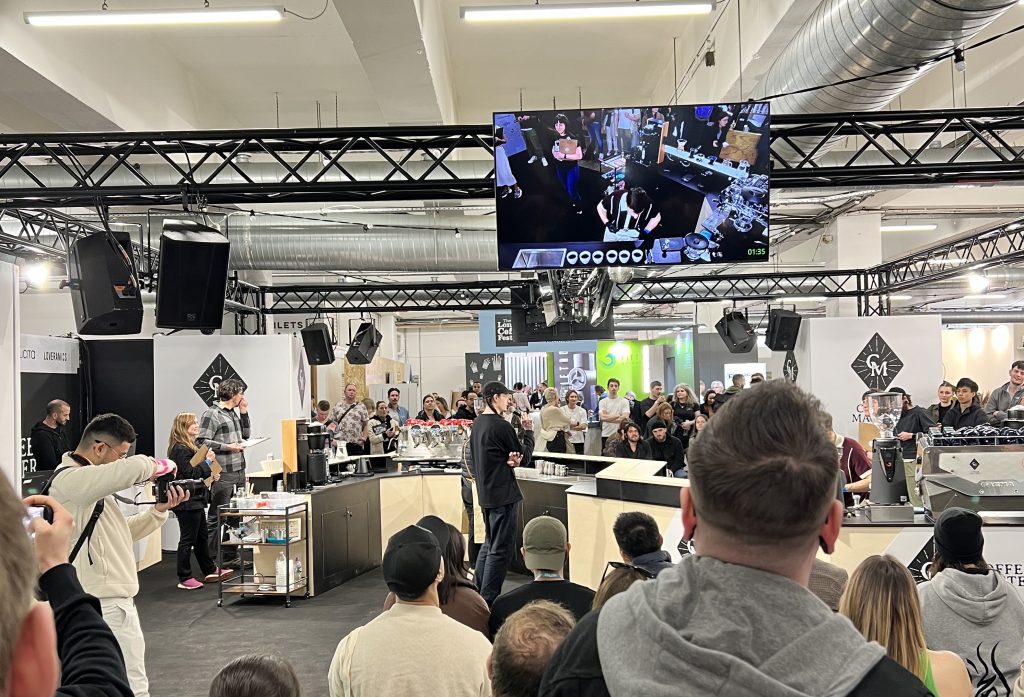 "We feel there's lots to be excited about as up and coming branding and design professionals, as strategic and creative direction constantly ebbs and flows in response to changes in consumer behaviour. So shows like the LCF are really helpful for us to see where the industries we work with are heading; it showcases some of the most dynamic and fast-growing new brands, so we can not only draw a lot of inspiration from them but also gain a deeper understanding of the category for future client-facing projects. Here are a couple of particularly interesting brands that caught our eye":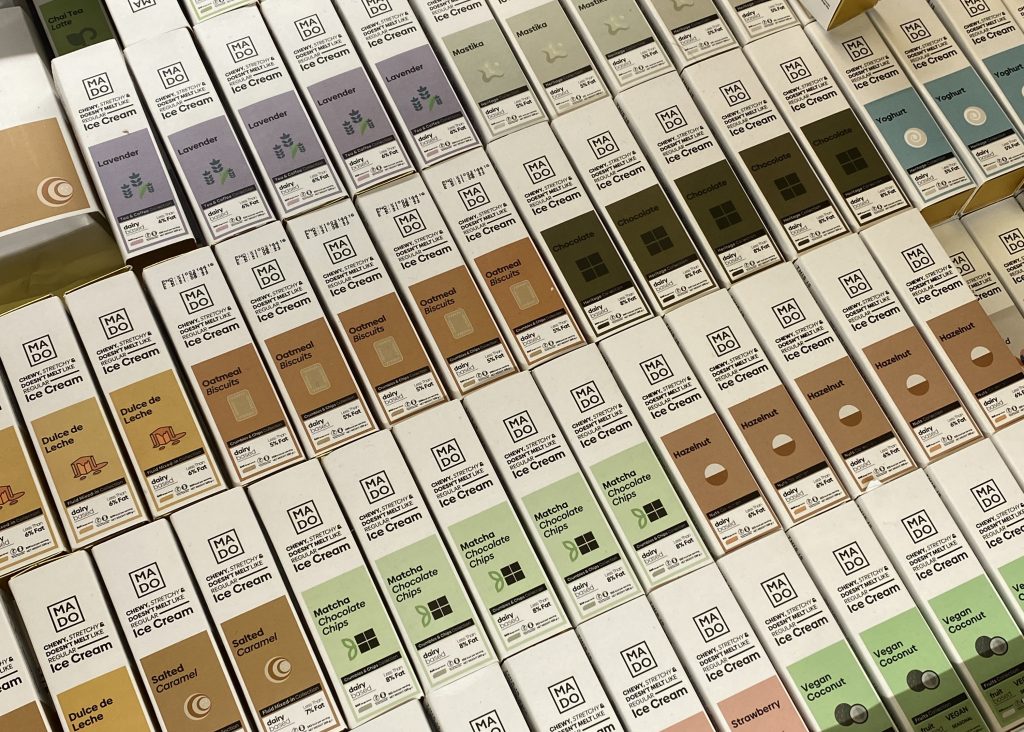 Just like our previous excursion to Lunch! and a key reason why we'll be heading to Bread and Jam Fest and many more this summer; these trade shows allow us to catch up with the clients we've had the pleasure of working with, seeing how their radically refreshed brand is doing in retail, and how our ShelfHappy principles have impacted consumer mindsets.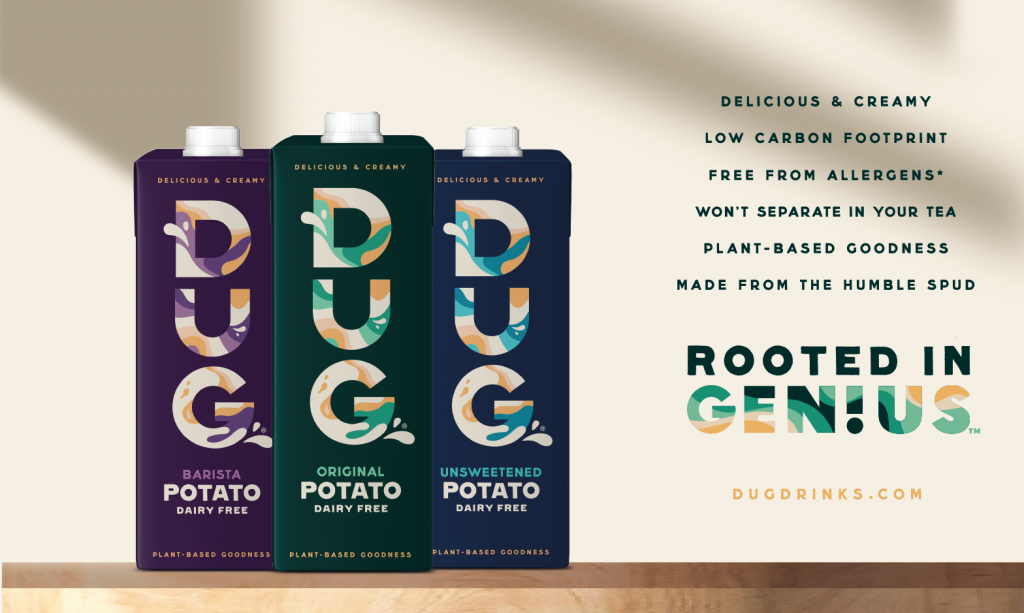 By know, you should all know about DUG's revolutionary, first-to-market plant milk. A truly disruptive, category-shaking product, utilising one of the most overlooked foodstuffs in the industry- the humble potato. In 2021, we worked with Veg of Lund SE to build a show-stopping brand identity, transcending this product from the lab straight to the shelves, and so 'DUG' was born. An instantly recognisable, punchy and ShelfHappy brand carrying bold shelf impact and appraisal at retail.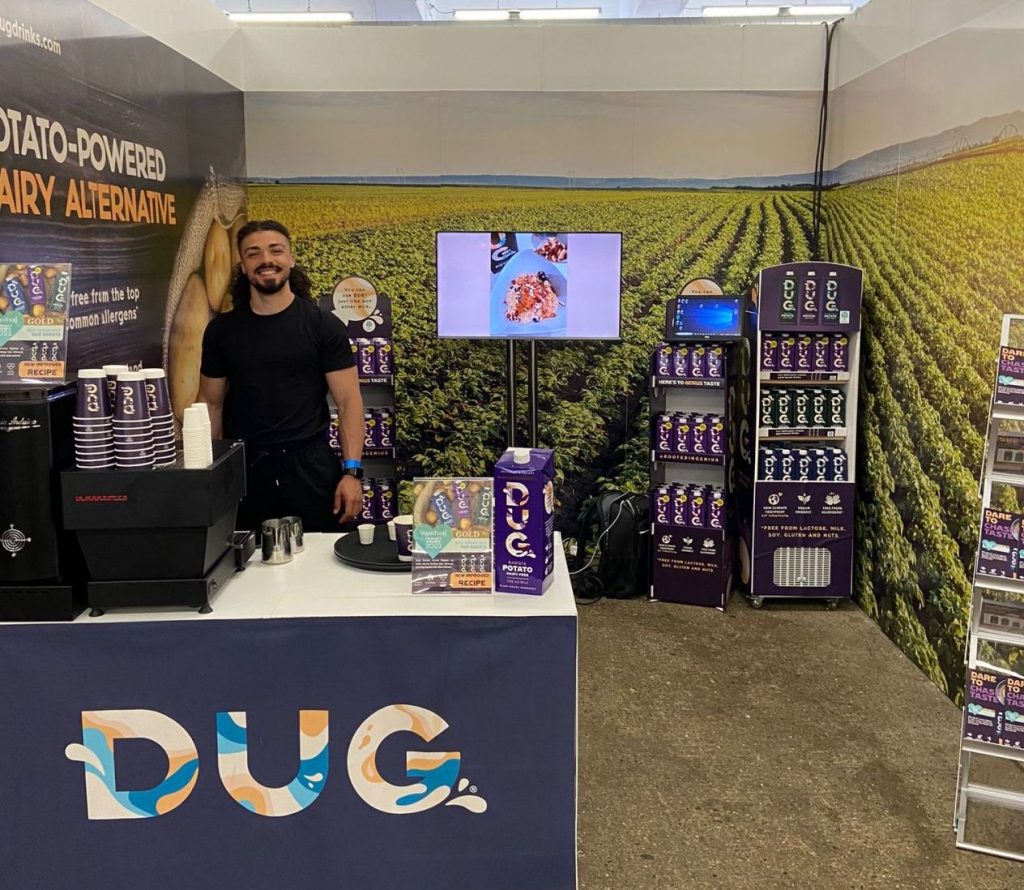 We pushed through the busy crowds of the festival and caught up with the guys at DUG who confirmed they had got a sackful of attention from eager industry experts keen to sample the milk and discuss. John Chater, UK Lead at DUG, was thrilled with the reception both the product and brand look received and spilled some news about some exciting future launches- but we can't say more about that, so watch this space!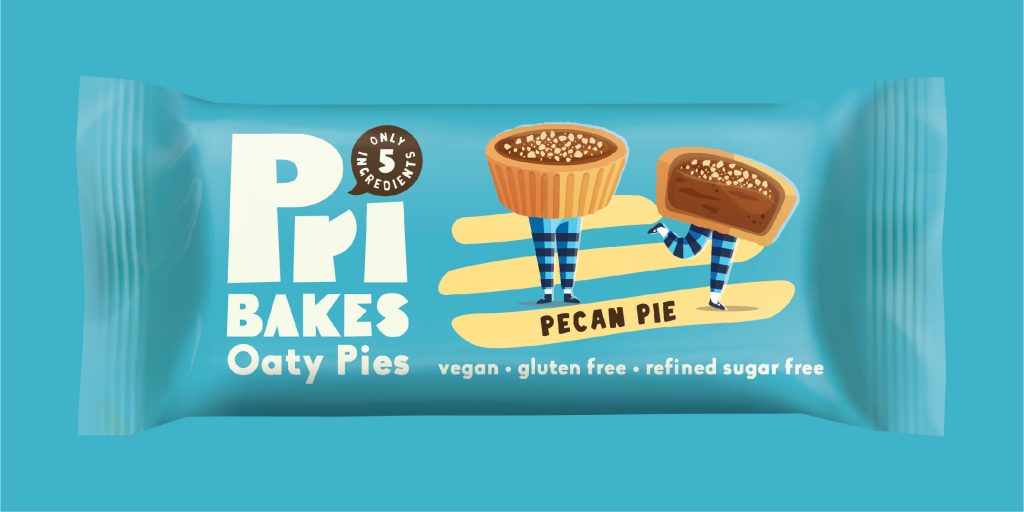 Made from just 5 natural ingredients for a completely vegan, sugar free and gluten free snack, Pri Bakes is one of our most recent brand refreshes having launched at the start of this year. We worked with Pri to define a happy, joyful brand personality reflected on pack, bringing to life the new proposition of 'Pri bakes your day', and a splash of colour gave the Bakes visibility on-shelf.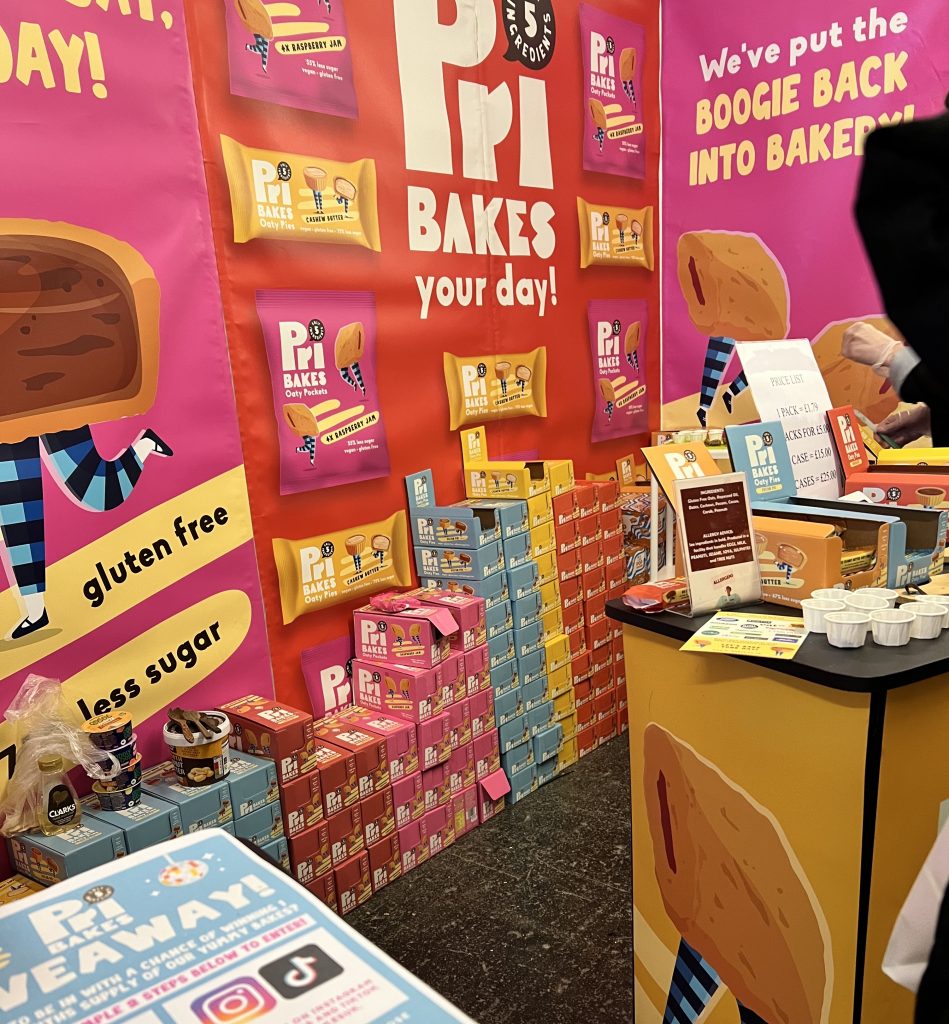 Pri and her team once again donned their trademark stripy leggings and were busy chatting with festival-goers, offering samples and happily discussing the brand and what it stands for. She said that the new look had gone down a storm since launch and attracted interest from retailers across Europe and the US, with consumers praising the bright visuals and cheerful personality. We feel this is an excellent example of identifying personality elements to help shape and refine a brand's packaging and are looking forward to the future of Pri Bakes.
We feel that London Coffee Festival is a great show to attend for anyone in the FMCG industry as it gives an incredible insight into what brands are up to- not just in coffee, but in other categories. It was great to learn more about the intriguing competitive coffee world and be able to witness a range of demonstrations and competitions, highlighting how far the industry has come in the last decade. We were thrilled to catch up with our friends at DUG and Pri Bakes who's ShelfHappy brand solutions were highly received by festival-goers. See you at the next one…
Headline image courtesy of London Coffee Festival