In another of our blog series entitled 'Meet:' we introduce you to some of Family's friends, associates and clients.
This festive week we'd like to introduce you the co-founders of Dare, Ben and Melissa, about their vision and journey to create something truly disruptive in the 'food for fitness' market.
Dare aims not only meet your nutritional needs and fitness goals, but also harness other benefits to your Health, Mood, Emotion and Performance.
Who are you and what's your back story?
We are a professional couple Ben and Melissa alongside our two young children Zach, aged 20 months and Hannah who's 14 weeks. We live in London and have just started our small business and brand called Dare. Ben is a medical doctor and Melissa works in the City. Melissa completed her MBA at Cass Business School in 2018 and with Bens medical background together we were able to put together our business and our core product which is the Motivational Shake.
What prompted you to start this brand?
When we first met we felt that life was just a bit ordinary and we yearned for more, we wanted to create that zing and push our zest for life back into the mix, so we took control made decisions and got motivated enough to starting making changes and saying yes! Through this life changing vision Dare was born as we thought, you know what if we can do then we can create a brand that will encourage, support and enable others to being able to take control and just say yes.
This is where we came up with the idea of 'Liberate Your Day' as this is about making small changes every day that add up to something big.
How has your journey been?
We started this process nearly 3 years ago and have faced many challenges along the way, however, our drive and relentless pursuit of the vision of what dare could be for many people out there like us has kept us going. We've met some fantastic, inspiring and key people to our business along the way so far and this network keeps growing and growing.
What value do you put on the power of branding?
The heart and soul of the business! From the very beginning we knew branding was key, to create the right look and feel  and ensure the messaging was conveyed to our audience was absolute top of our list. We were so lucky to have found Family and Friends at the beginning of our journey and without the support of Derek and Alex's team, we really don't believe Dare would look like it does today, they were fantastic at creating the imagery and have worked tirelessly to listen to bring our vision for the brand to life. When we first started we had a great workshop to define our brand values and rocks and felt that Family and Friends used these to shape the characteristics of the brand.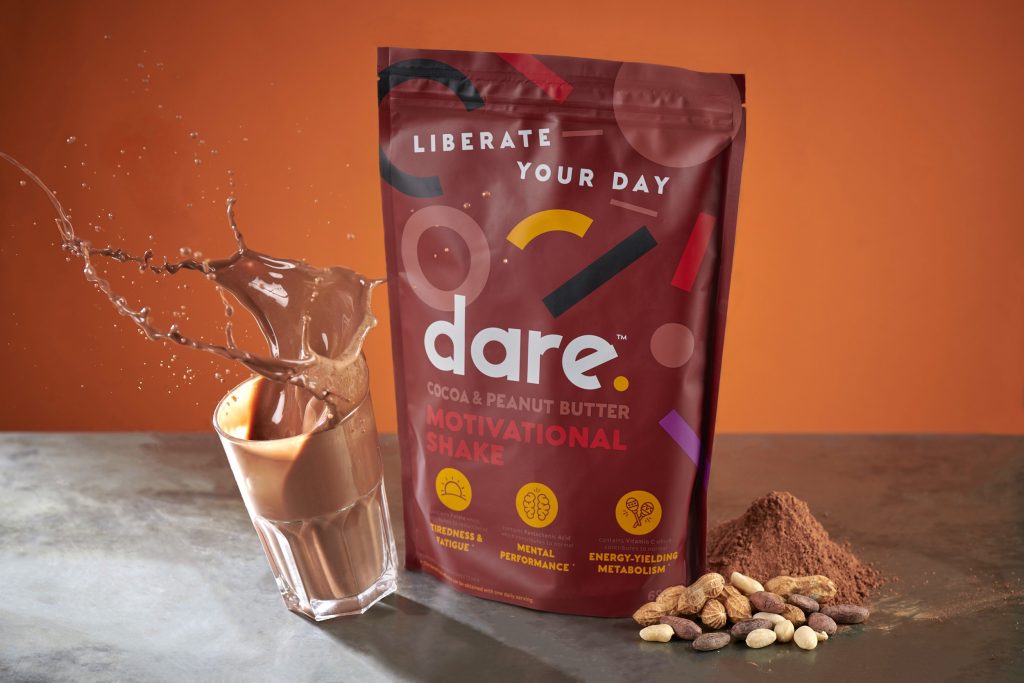 What does the future look like for you?
We would like to continue to work and promote our core product; the Motivational Shake, and get Dare as a movement in the mainstream market with the goal of creating a community. We have been working on some additional flavours and products that support our theme of motivation. We have had a lot of interest from other locations outside the UK, both in the EU and the US and we would like to begin exploring expanding into these regions.
What's your motto?
We have a few but I think the main one is 'it might all go wrong but imagine if it all goes right' !
Find out more about Dare here.
www.instagram.com/dare.motivation
Dare fans and friends feature big on Insta – along with the much loved T's, their signature smoothie shakers and other liquid-holding merch are a great hit.