Just 25 years old, Lydia Nabulumbi has been a vital member of the Gumutindo co-operative in Uganda. She has responsibility for coffee tasting, providing training for farmers and for quality control of shipments that her co-op exports to buyers. She's also a busy mum on the school run and back at school herself in fact…
Lydia is a shining example of the successful youth programmes in place that are heavily supported by Cafédirect's positive impact.
Our latest project continues to build on Family (and friends) 'Healthy and Happy Brands' philosophy; in this case, our 'Healthy Culture' pillar.
Cafédirect are boldly marketing their 32-year long mission to help make the world of coffee 'better for everyone', leading with a new range of ethically driven, speciality blends.
Blended coffee doesn't always have the best image, often in spite of the care and attention that goes into the art of sourcing varieties of crops, regions and flavour subtleties that can make for delicious alternatives to single origin provenance. The Cafédirect Be The Change roast & ground range is aiming to change that perception.

It's well known that huge passion and energy goes into Cafédirect blends, more so that aside from great flavour, the UK's leading purpose-led B Corp company only sources from participating Fairtrade farmers and co-operatives.
Cafédirect: brand purpose leaders since 1991.

Cafédirect always goes further – paying over the required Fairtrade premium, providing on the ground education, support and genuine livelihood enhancement for their growers. No other coffee company does more for struggling growers across the globe. All the while, producing some of the UK's most delicious and popular roast and ground coffees and working with 29 producer organisations in 13 countries across Latin America, Asia and Africa.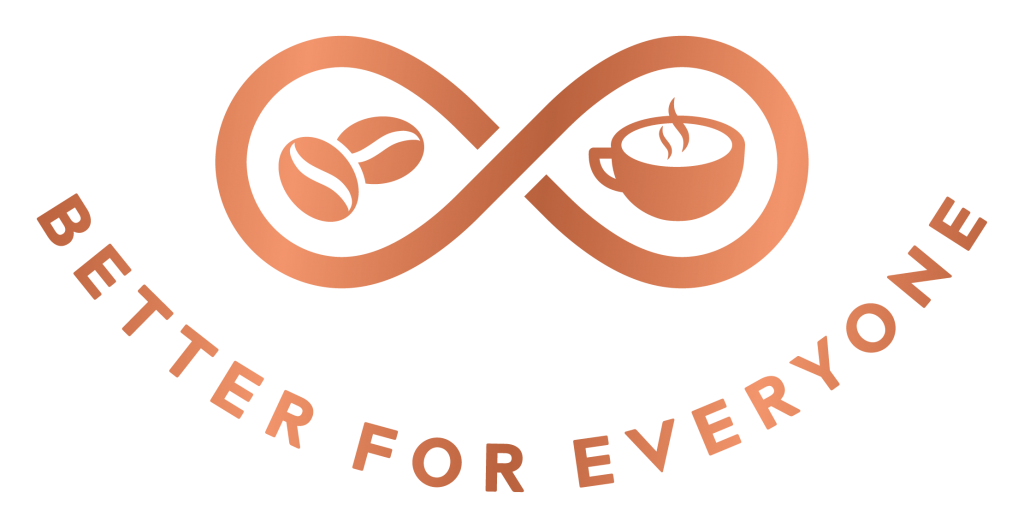 This newly launched range supports some of the most important issues within the coffee growing world – climate and farming impact, gender inequality and youth talent drain.
To this end, three new blends, named 'Empower', 'Restore' and 'Thrive' are going on sale ahead of Fairtrade Fortnight (27 February – 12 March) with a proportion of proceeds going towards funding female leadership programmes, farmer led carbon offsetting initiatives and support for youth agribusiness projects.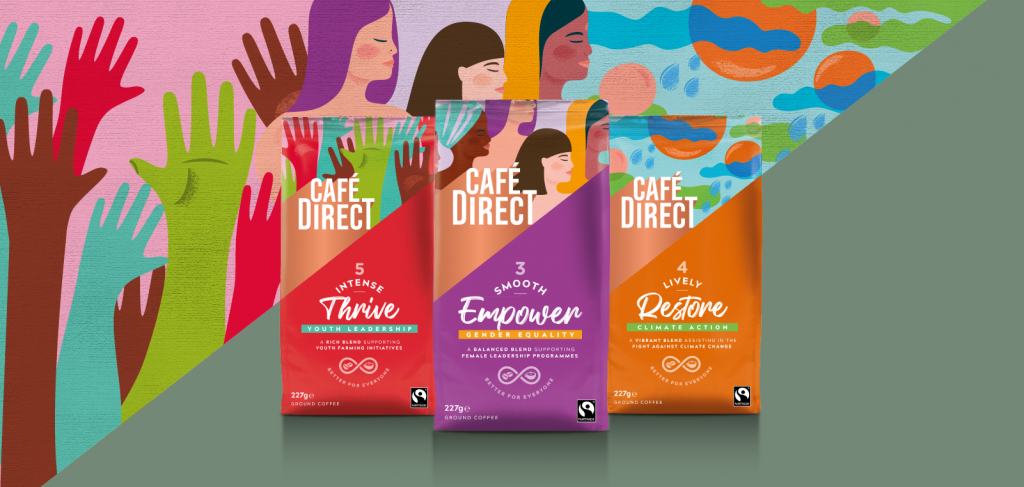 Empower. Restore. Thrive.

Family (and friends), long term brand partner of Cafédirect, developed the brand messaging and packaging for the new range. We focused on creating something truly Shelf Happy® using bold, illustrative styling and further extending Cafédirect's visual codes featuring their upwardly projecting brand logo and cut-through device.

A newly developed 'infinitely better' icon has also been developed as a short-form way to illustrate the direct connection between bean-farmer and drinker benefits, which will feature on all Cafédirect packs going forward.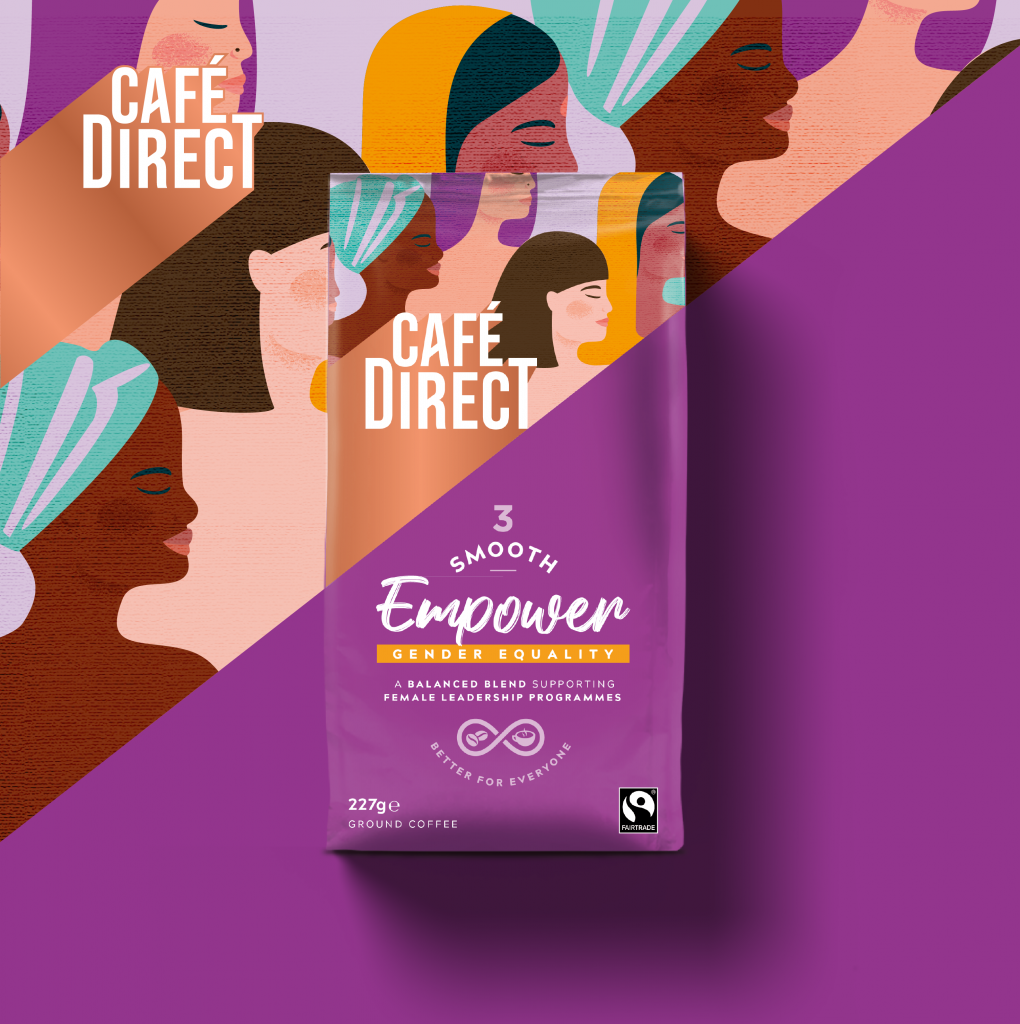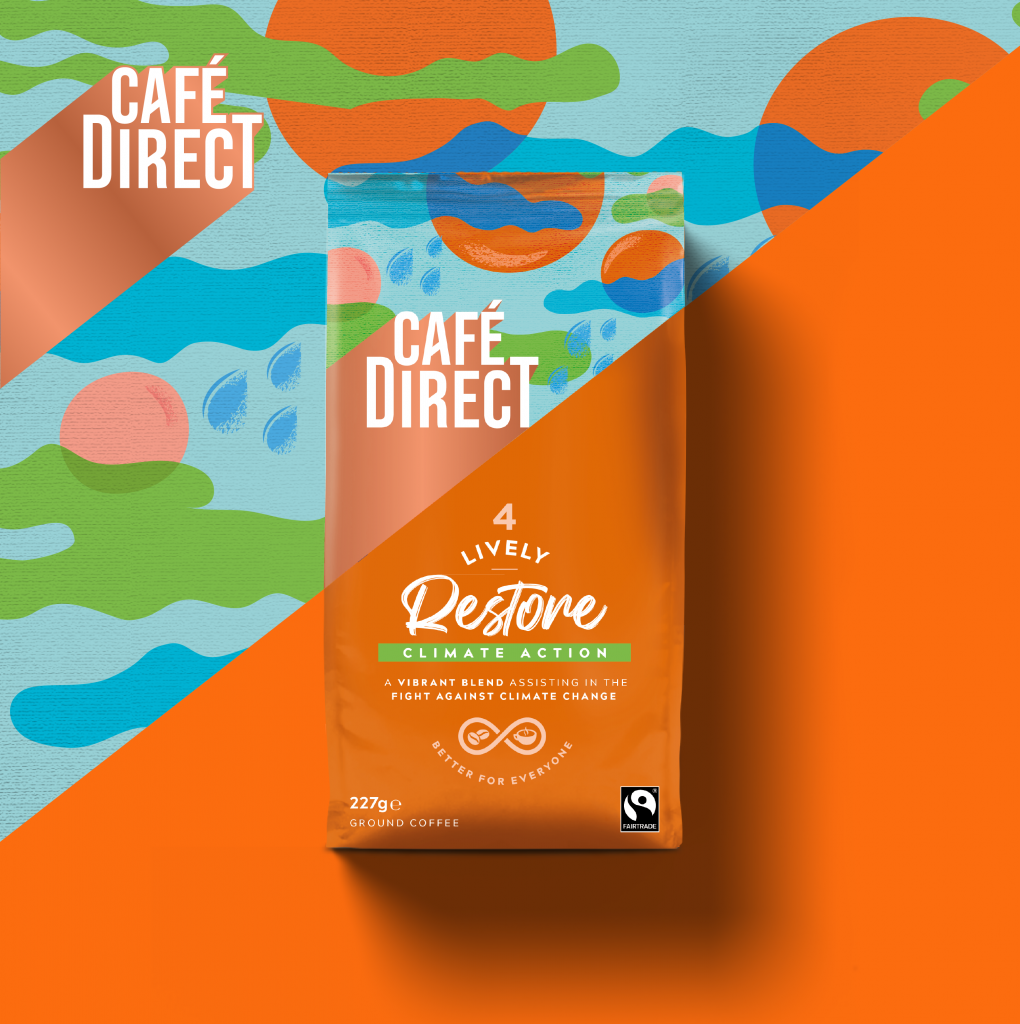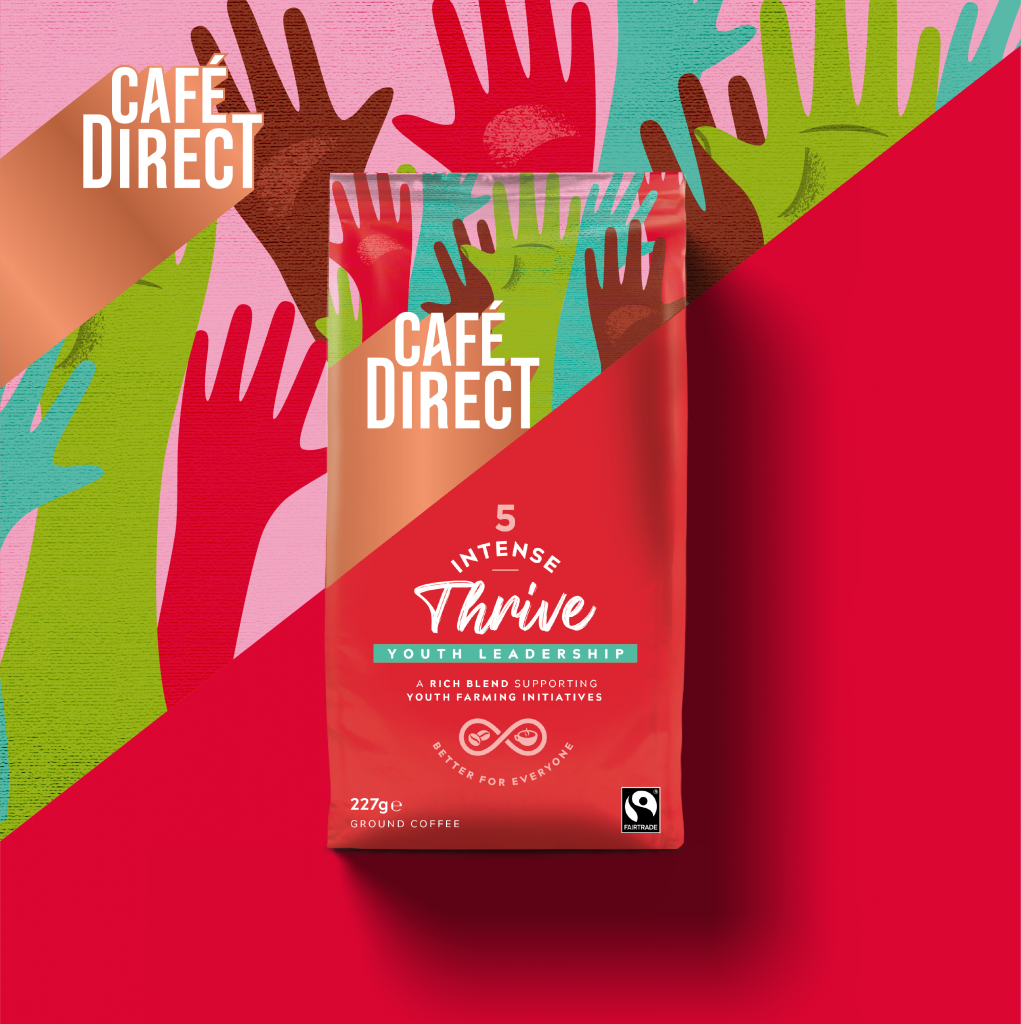 In contrast to existing Cafédirect product lines, we targeted younger consumers who are traditionally less into coffee and its provenance. This predominantly Gen-Z drinker is often well-educated and cite sustainability, convenience and above all, ethical reasons for their motivation to purchase. 58% of these consumers claim they'd pay more for sustainable credentials.
This is reflected in the bright, vibrant and aesthetic visual identity which clearly signpost the purpose behind each blend, all whilst popping off the shelf and celebrating Cafédirect's impeccable ethical credentials.


Genuine care for growers.
Around 125 million people worldwide depend on coffee for their livelihoods. It is one of the most valuable and widely traded tropical agricultural products and is mainly produced by smallholder farmers. Many of them, however, are unable to earn a reliable living from the coffee they produce. Coffee is one of the world's most popular beverages and 80% of it is produced by 25 million smallholders.
https://www.fairtrade.org.uk/farmers-and-workers/coffee/

Coffee is well known for being a boom and bust commodity. Global coffee production varies from year to year according to weather conditions, disease and other factors, resulting in a coffee market that is inherently volatile and characterised by wide fluctuations in price. This price volatility has significant consequences for those who depend on coffee for their livelihood, making it difficult for growers to predict their income for the coming season and budget for their household and farming needs.

About Cafédirect.
Unlike any other coffee company, Cafédirect invests 50% of their profits into PRODUCERS DIRECT, a UK charity that works directly with farmers to improve sustainability and livelihoods, right across the coffee growing world. The charity is run by farmers, for farmers, taking leadership and developing innovative solutions to the challenges they face.
"This reciprocal, direct relationship enables us to provide our consumers with great tasting, very high quality and continually improving drinks".

John Steel, CEO, Cafédirect.
You can find a number of inspiring podcasts here from John and many leaders and shakers in the world of better business.

https://podcasts.apple.com/gb/podcast/building-better-business/id1575195301