Everyone in the food and beverage category will know that Lunch! is one of the most important dates in the calendar- a huge exhibition of F&B brands old and new showcasing products, keynotes from leading industry experts and plenty of opportunities for networking with others in-category, from sales to supply chain.
A couple of weeks back, the F&F team descended upon the ExCel Centre in Custom House to attend Lunch! 2022- and spent the day marching up and down seemingly endless rows of brands and talking to many stallholders about their products, which was hugely enriching for us all. Hearing brands share their personal passions and developments in design, branding and strategy allows us to take a step back and evaluate our own thinking, inspiring our future endeavours.
This year's show was chock-full of innovation and a majority of brands focused on sustainability and environmental practices which is extremely promising, as it means many perceptions within the food to-go industry have shifted and looking after the planet is at the forefront of strong brand equity. That being said, here are 6 brands we chatted with and loved, that we believe have huge potential for growth in the future.
Bettafish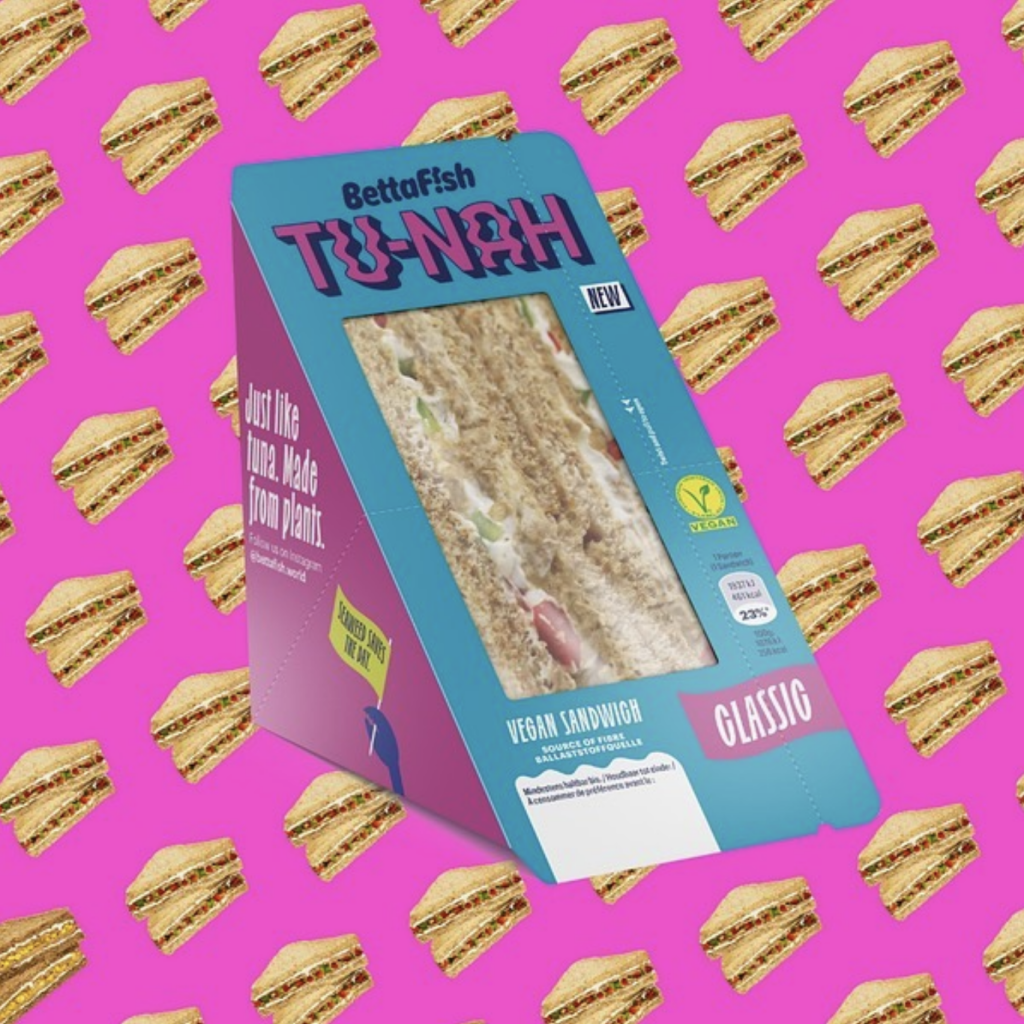 We start with an incredible brand who produces a highly unique, first-to-market product- vegan tuna. Based in Berlin, Germany, Bettafish is seeking to shark up the market with its "Tu-NAH" range which comes in several forms- including sandwiches, pizza, toppings, and spreads.
The product is made primarily using organically grown fava beans and seaweed from sustainable sources which perfectly simulate both the mouthfeel and fishy flavour of tuna, before being added with vegan mayo and other plant-based ingredients to complete a fantastically accessible range. We tested a TU-NAH sandwich at the show and it tasted almost identical to a tuna mayo sandwich, one couldn't taste the difference in a blind test which is a testament to the sheer amount of innovation involved.
When we spoke with Bettafish at the show, they told us a key motivation for their product's innovation was the current state of the fishing industry- thousands of species being unethically farmed at alarming rates has caused populations to dwindle en-masse. Since its inception they've saved *19,876 tuna fish from being caught and processed into cans! The brand is already making waves across European retailers, including listings in Aldi Supermarkets in Switzerland, Germany, Denmark and more. Could they break into the UK market soon too?
Miami Foods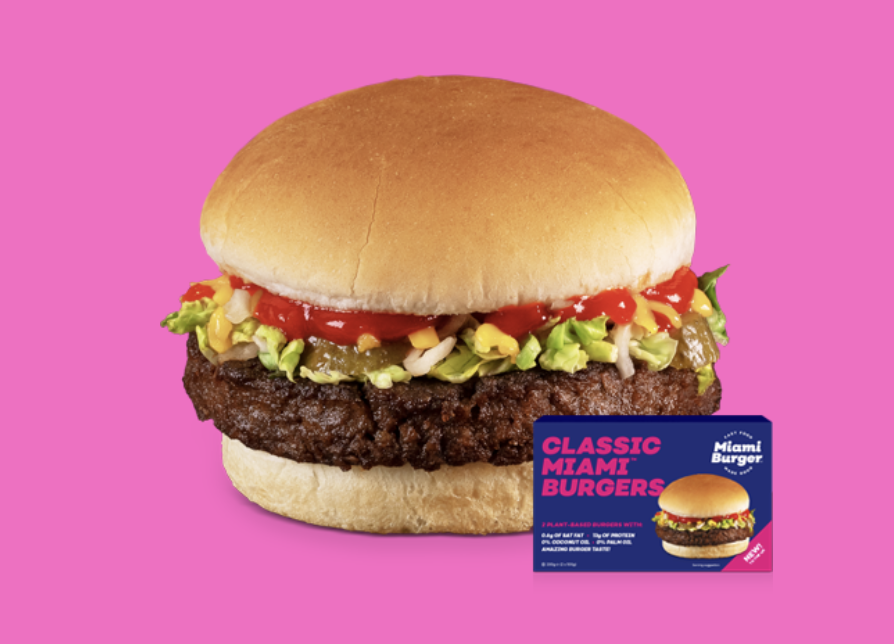 Another brand we chatted to believes that most plant-based substitute brands are doing this whole vegan thing completely wrong. Started by an Englishman in Miami, Florida (the start of every good tale, we'd say!) Miami Foods specialises in plant-based burgers, bacon, sausages, and meatballs as well as chick-n burgers.
This brand caught our eye due to their marketing and branding, which adds a neon pink, chic, glamorous twist not seen elsewhere in-category. It seems almost strange that other brands didn't pick up on this before, considering the monumental rise in vegan diets; and the standardised dull green packaging with leafy imagery to indicate plant-based is now an outdated and overused concept.
Miami don't just rely on their branding to sell either- their product truths are extremely strong, with their burgers containing approx. 0.6g saturated fats per 100g, 5x less than the next healthiest on the market and 30x less than the popular Moving Mountains burger.
A common issue with veggie substitutes concerns the overuse of soy protein which can lead to monocropping, as well as questionable health claims so this is a fantastic step in the right direction, with Miami using wheat and pea proteins alongside soy- all sustainably farmed in Europe. Their burgers were incredibly moreish with a great charcoal flavour, and the bacon bits were very similar to the real thing.
You can purchase the range on their website- or for our friends in or visiting The Netherlands, they have a restaurant in Amsterdam where you can purchase their whole range on-trade. They can also be found in various eateries across the UK.
Karu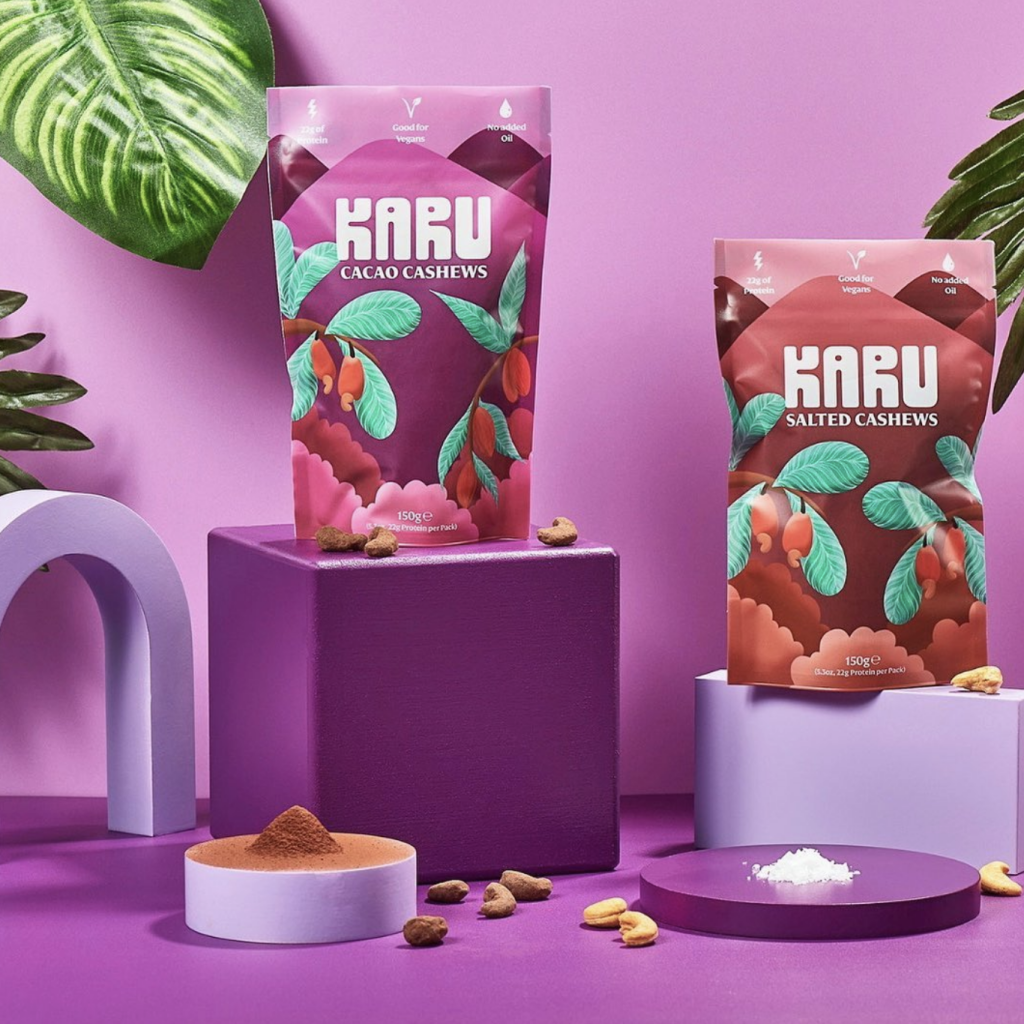 When the founder of Karu– Brazilian born and raised- first came to the UK she often missed the comforts of home, including the freshly roasted Cashew nuts synonymous with Brazilian snacks. Thus, Karu was born, offering a unique combination of cashews wrapped in salted caramel and dusted with cacao powder. The product tasted great, unpretentious yet decadent and moreish- but importantly is stripped of any added oil, artificial colours or flavours. The unique roasting process actually uses the natural oils found inside the cashew to lock in flavours and goes perfectly with the salty sweet caramel and cacao casing.
Karu also gives back to the communities it works with, with a percentage from each unit sold going directly back towards NGOs who are working to protect the rainforest from environmental harm. And the packs are fully recyclable, too. A force to be reckoned with in the world of sustainable snacking.
Kyoot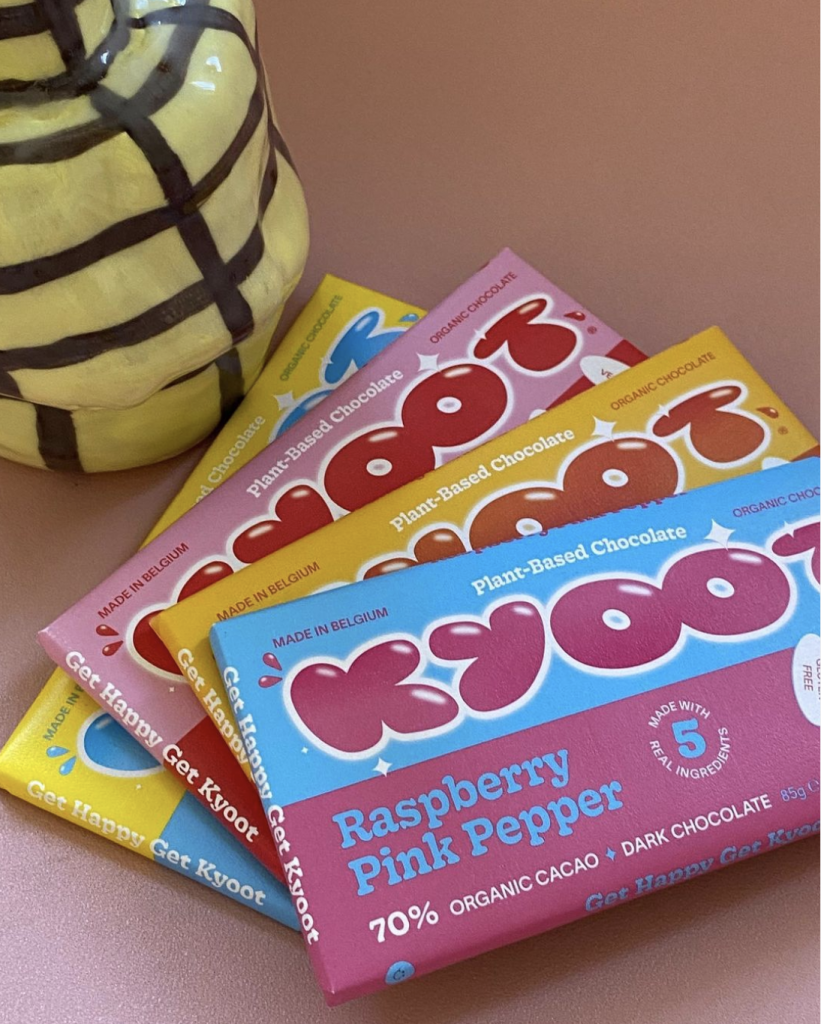 Unapologetically trendy, with high ambitions, we turn our heads towards Kyoot. Proudly female-founded and run, the brand produces vegan, gluten-free chocolate that's better for you- with no refined sugars or preservatives and no emulsifiers. Founded by Noor, a London based chemical engineer turned chocolateer, the brand identity is rooted in Y2K and 00's internet aesthetic (if you know you know) which we found fascinating.
Like Miami Foods, Kyoot (cute) is taking a different route to branding in a saturated vegan chocolate market to differentiate itself- moving away from traditional plant-based design cues and targeting an explicitly younger audience which we'd agree makes up the bulk of the increasing vegan population in the UK and beyond. Brands like these are stimulating creativity in the market by thinking outside the branding box and creating strong brand personalities, with consistent use of social media marketing to reinforce and strengthen their identity and appeals to gen Z and older consumers alike.
Their health and ethical credentials are also up to fantastic standard, with all ingredients being naturally and ethically sourced- organic cacao directly from small-scale Peruvian farmers to encourage biodiversity and polyculture to heal soil and the Earth, natural coconut sugar and responsibly sourced ingredients. Their outer sleeve is also 100% recyclable and boasts a compostable inner wrapper, and the chocolate itself comes in 5 flavours- our favourites are the Raspberry Pink Pepper, or Vanilla Quinoa!
NOBL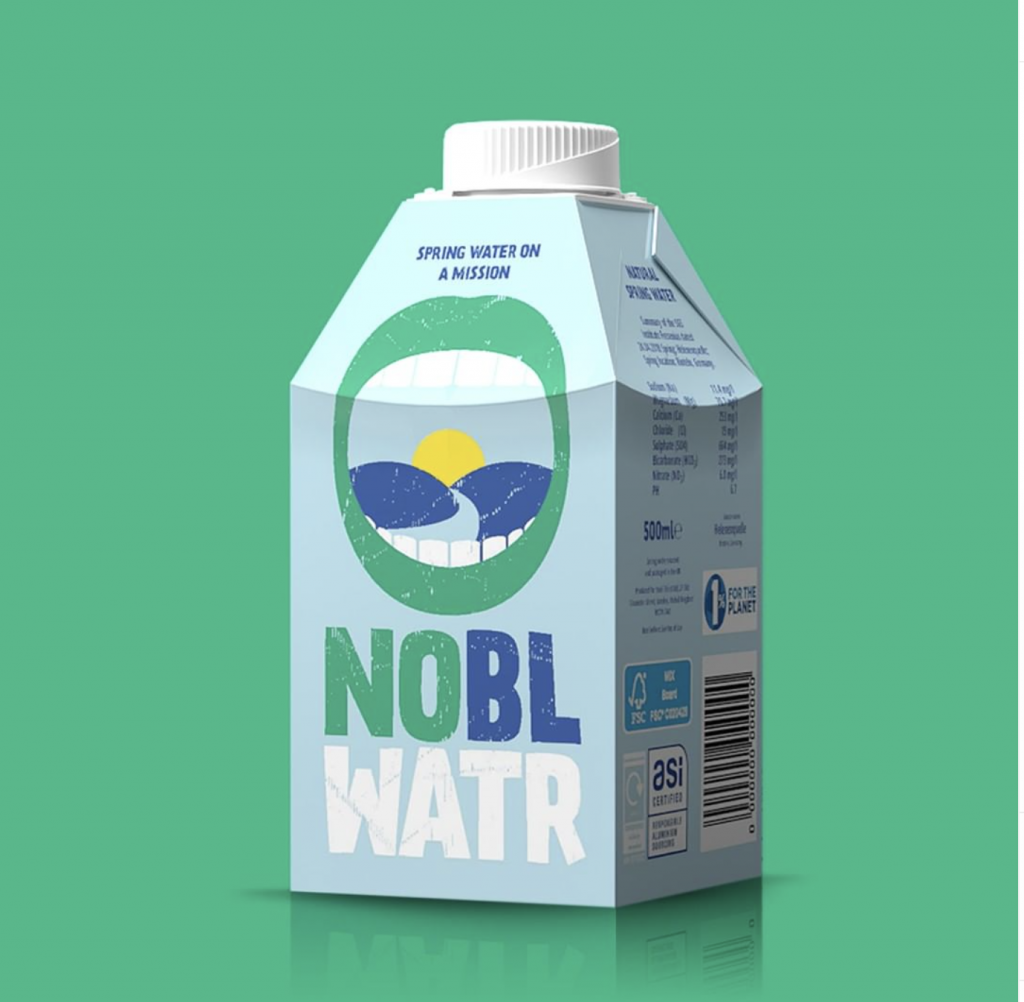 A brand unequivocally obsessed with sustainability and prevention of waste, NOBL is a mission orientated brand selling cartons of UK spring water from Somerset, made using 100% recyclable and 94% plant-based materials.
I know what you're thinking, there's at least 20 other water brands with the same mission- indeed, it's promising to see companies care about waste and the environment- but many of these brands are missing the trick, while they use some sustainable practices they omit others which still contributes a negative carbon footprint.
Noble in name and nature, this brand caught our eye due to the fact that EVERY part of their supply chain is meticulously checked for sustainable practices, from spring to supermarket. They've invested in a fleet of electric lorries, the NOBL Volta Zero Electric Truck aiming to be on the roads by next year for distribution and supply chain, while they only source from 1000 miles to reduce carbon footprint. They are committed to offsetting 110% of any unavoidable carbon emissions and donate 5% of total profits to UK environmental charities. And they plant a tree for every 12 units sold!
Ethically they've also nailed it, paying real living wages, 5% profit sharing to their entire staff and a responsible pay structure to eliminate disparity. Despite the water category becoming more environmentally conscious, NOBL is a star of the show due to its continued focus on putting the planet first.
Cheerful Buddha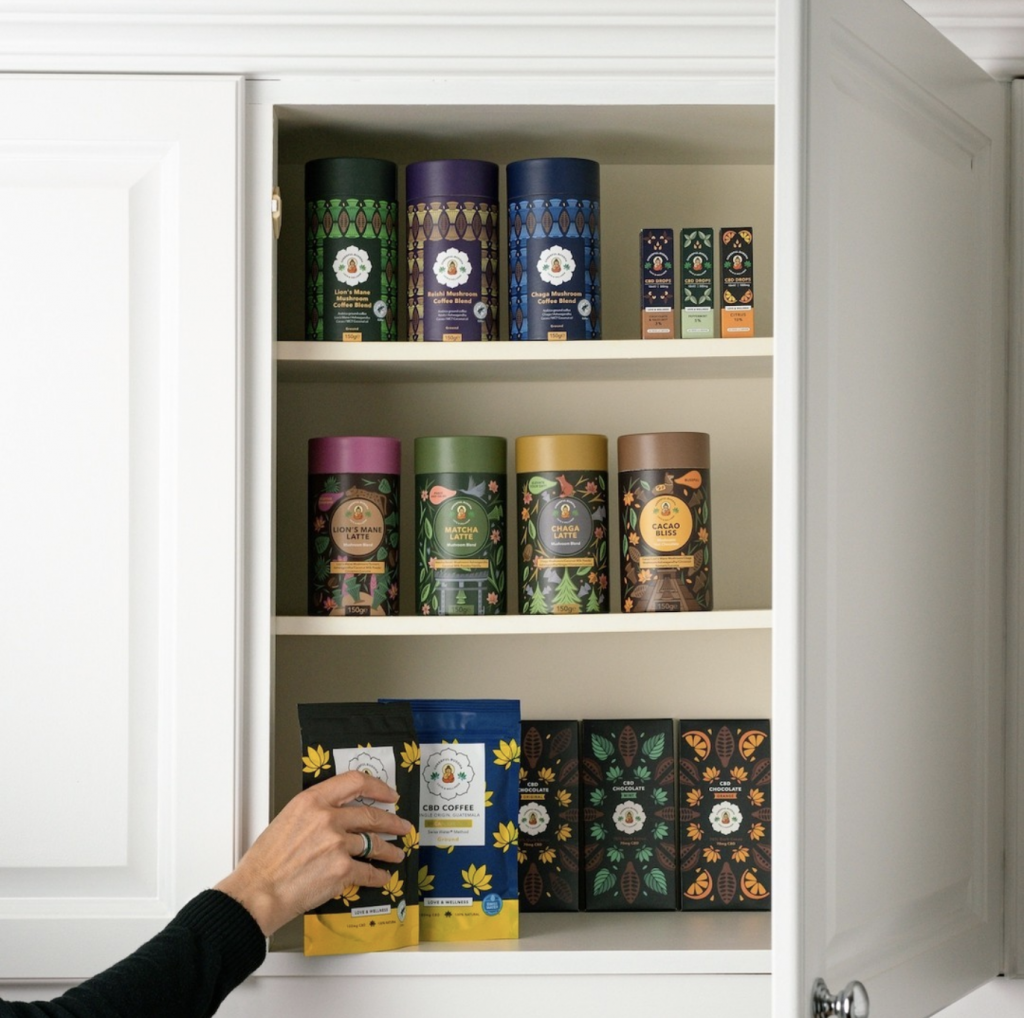 A brand we think deserves all the love in the world and innovating in a category with much potential, Cheerful Buddha is a health & wellness brand specialising in CBD infused coffees and superfood blends, using all-natural hemp and various natural remedies known for medicinal properties. CBD (unlike its popular psychoactive cousin THC) is a legal novel ingredient in the UK and is considered to be a promising category within food and beverage due to many studies resulting in positive medicinal effects for humans- reportedly easing symptoms of anxiety and depression as well as pain relief.
The Cheerful Buddha range includes CBD infused coffee beans and ground coffee alongside coffees and teas made from lions' mane, chaga and ashwagandha to name a few- a real focus on natural remedies from the earth which have positive effects on the mind and body. We like this brand so much because of how accessible it is to prospective consumers- CBD oil is added to coconut oil, which is then used in manufacturing of the products, making CBD consumption much easier for consumers who may be put off by using CBD oil alone. Their newest product is a first-to-market 70% cacao vegan chocolate bar containing 70mg CBD coming in 3 flavours and further showcasing the brands innovation.
Cheerful Buddha has an impeccable sustainability record and sources all its ingredients ethically and responsibly, supporting small-scale suppliers and growers from South America and South-East Asia, also investing in local projects like building of schools. They're also Rainforest alliance certified and contribute to the eco work done by charities.
Friends of the family.
We also caught up with some old friends while at the show, showcasing their amazing products and branding that we had the pleasure of getting involved with. Get More Vits has gone from strength to strength and are dominating the health and wellness category with their drinks and vitamin range, while Seed and Bean– the most ethical chocolate brand in the UK (Ethical Shopping Guide)- have become a household name in the chocolate category.
About to bake your day?
And now for some exciting news- we'd like to introduce everyone to the new and improved brand image for Pri Bakes, a brand specialising in better for you sweet bakes which soft-launched at Lunch! We're really happy with how this turned out and we can't wait to share more with you- details coming soon via our blog and social media.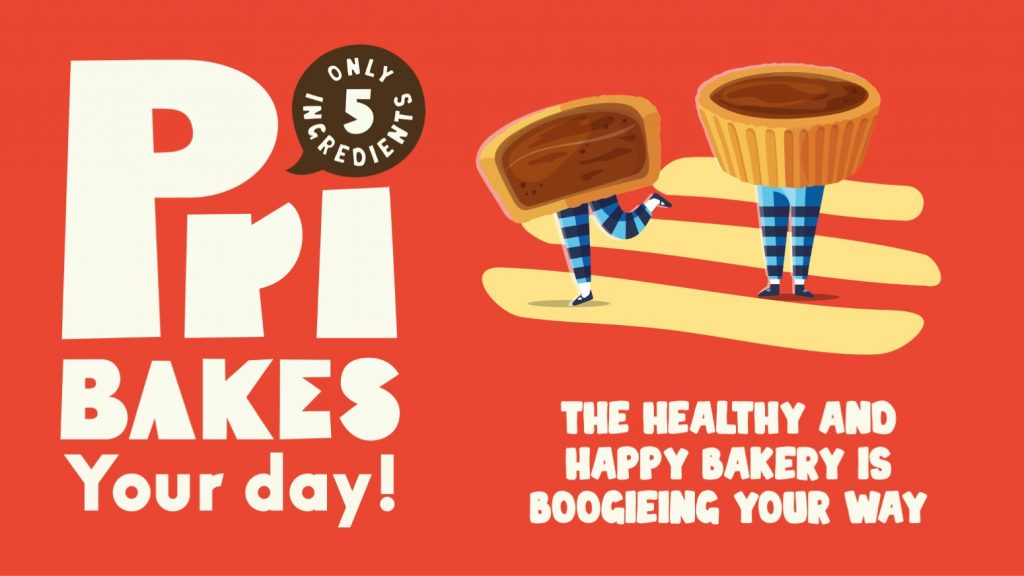 Thanks again to Lunch! for having us, we can't wait to see what the rest of the year has in store for us and for the branding stratosphere.