As part of our continued spotlight on biodiversity, F&F attended Kew Gardens to take a look at this year's summer exhibition titled "Food Forever"- a collection of informative and explorative art exploring the theme of future food sources, sustainability, and human impact on the planet.
The Royal Botanic Gardens Kew is one of the world's most famous flora collections in the world has been home to thousands of rare and exotic plants for almost 300 years. It's also conveniently a stone's throw away from our studio in leafy Richmond, only a 20 minute walk- so of course, we had to visit our neighbours!
Here's what we got up to:
Future Food Stories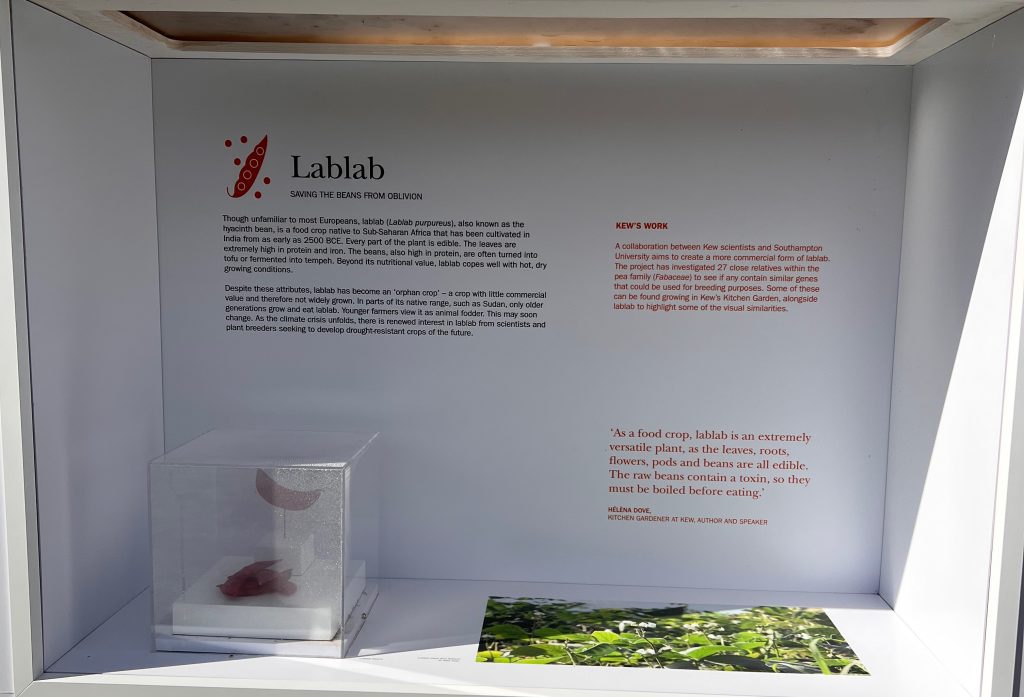 A highly informative installation brought to life by Madrid-based design studio Sharp & Sour, these display cases showcased a number of underutilised foods we could be converting into food supplies if our mono-farming techniques continue to ravage the land- from Lablab beans to lab-grown meat, cacti to Fonio.
It also mentioned various methods of sustainably farming and rewilding, including tiny forests- micro wooded areas in metropolitan areas designed by Japanese botanists to reintroduce wildlife and biodiversity in cities- and even using drones to fertilise crops. The future is nigh.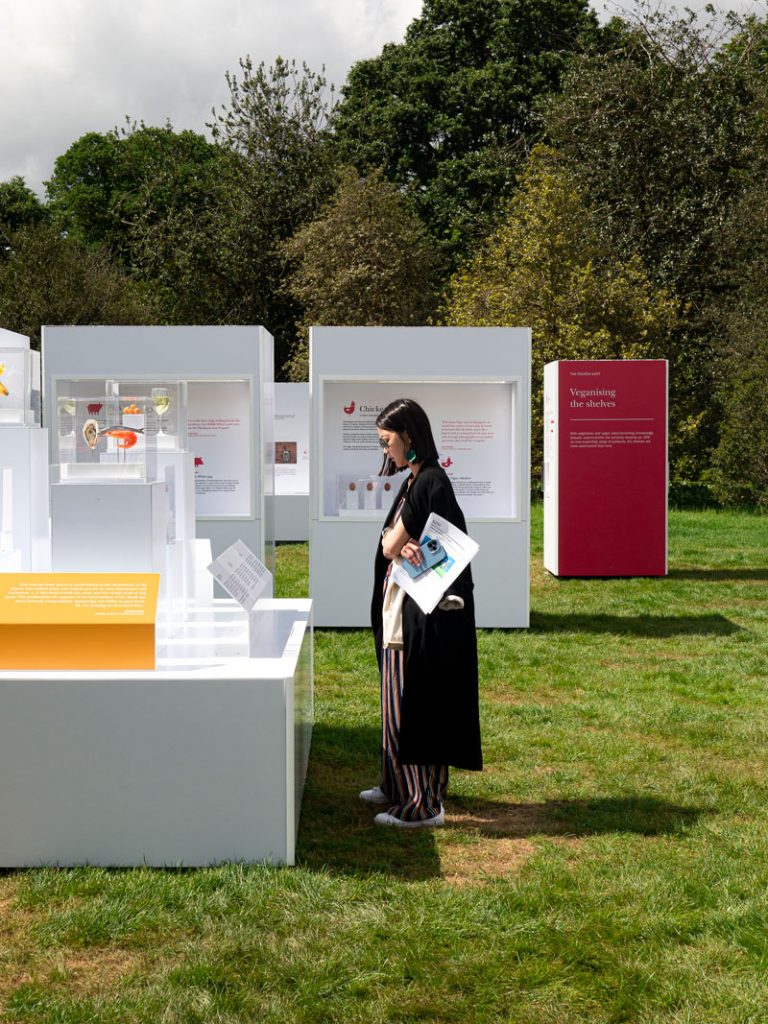 A highly educational and easy to digest combination using visual art sculptures and information in collaboration with Kew's scientists, each section focused on a different perspective of food and its future.
It felt more an outdoor classroom than a botanical garden and we particularly enjoyed their inclusion of insects and algae as future food sources- in fact, we published a blog on the subject a while back!
The Breach (Labyrinth of Monoculture)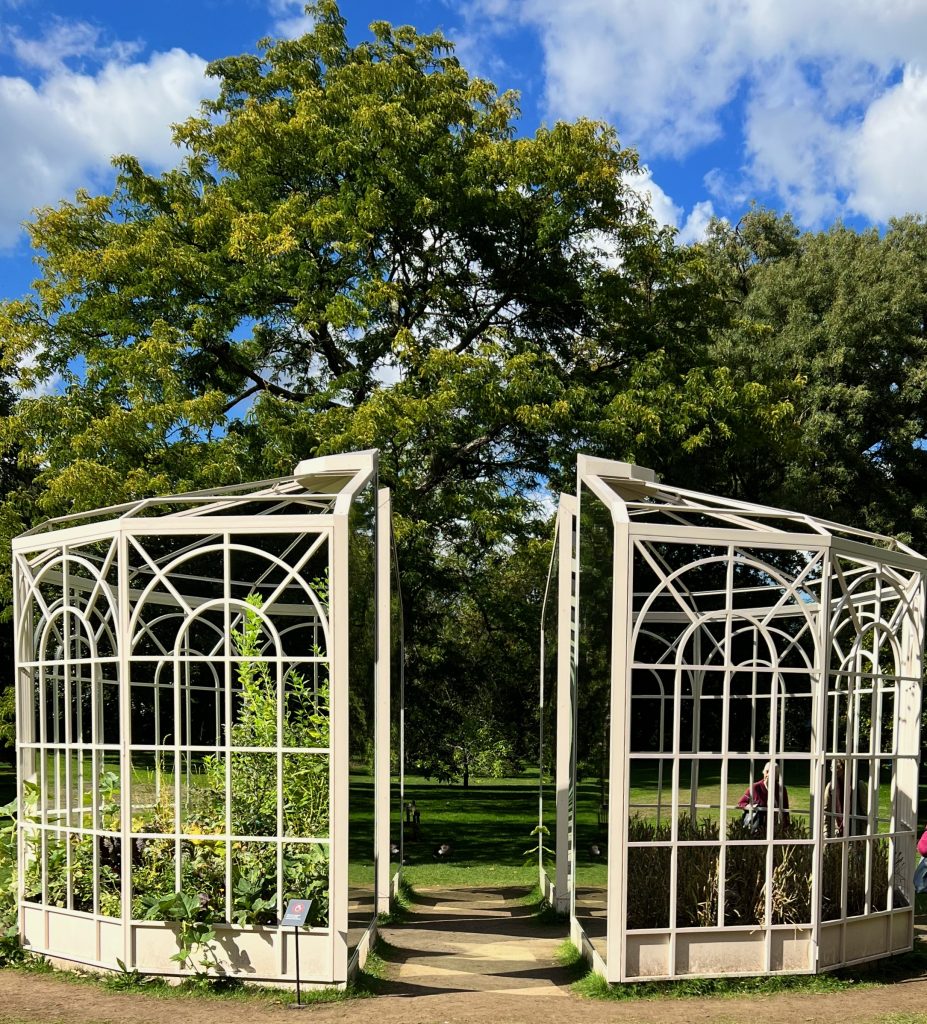 This unassuming gazebo, located next to the gorgeous central lake and surrounded by swans amongst the trees, hides an intriguing secret. Designed by renowned Argentinian artist Leandro Erlich, the installation contains mirrors and 4 sections with each corner housing a different state of crop so that ones perspective changes depending on which side you view it from.
It illustrates the tricky complexities of mono-cropping by showing the impacts it can have on a healthy crop- from green to dead in just months due to degradation of soil health.
A particularly thought-provoking sight, especially when considering the current explosion of vegan substitutes that has exponentially increased soybean and pea mono-cropping.
Off for a stroll…
We took a break from the Future Food installations to check out the rest of Kew Gardens, walking for hours around the 330-acre establishment and getting lost in the endless nature that greeted us. Here were some of our favourite sights-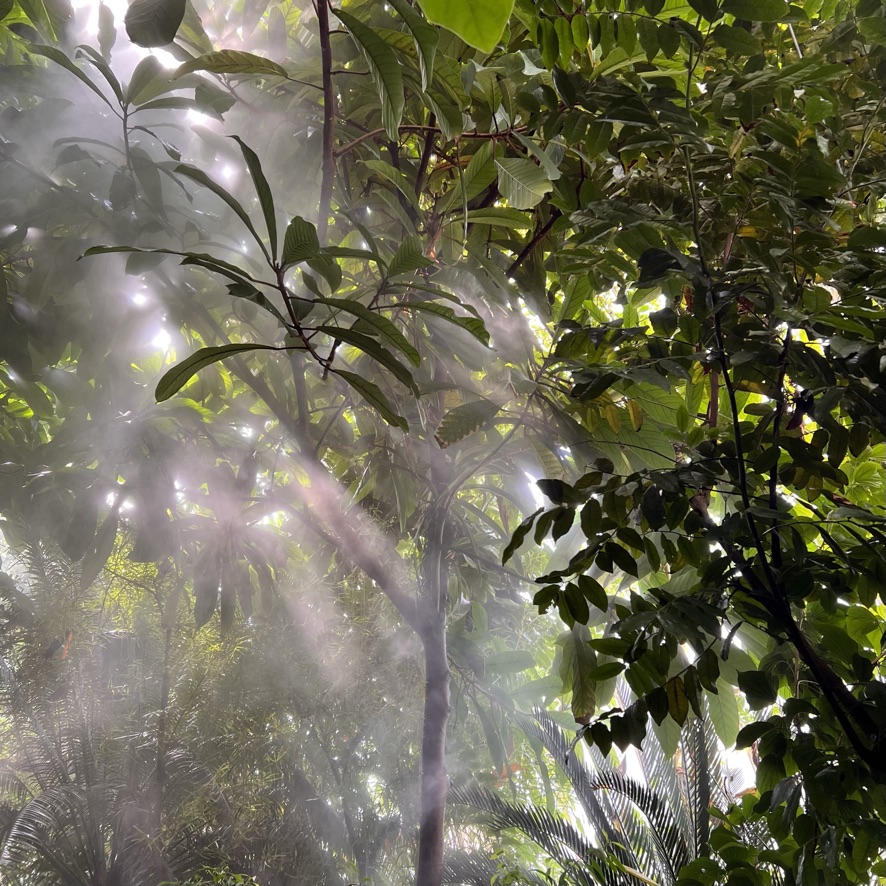 The waterlily house where the giant Amazon waterlily stole the show. These specimens were discovered in Bolivia in 1801 and grow so wide and vast that babies and small children can comfortably sit atop them without sinking.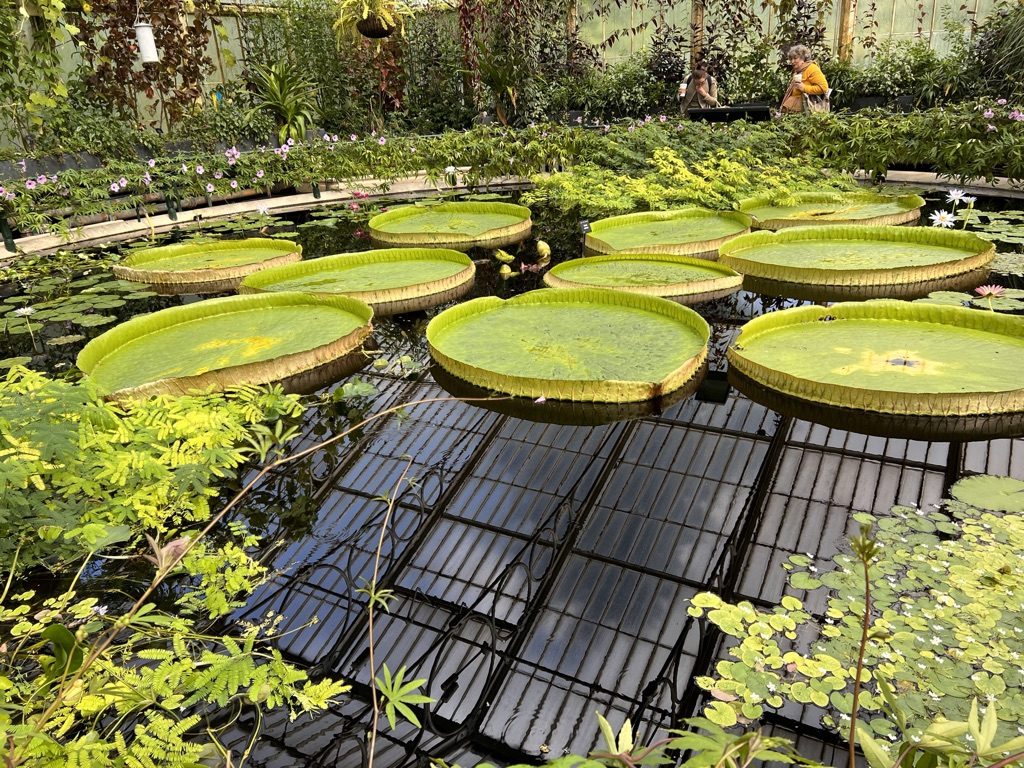 Another highlight was the natural area, a quiet conservation area of the gardens tucked away in a corner having been previously inaccessible to the public. It was gifted to Kew Gardens in 1898 by Queen Victoria on the condition that they maintained its naturalistic state but was recently reopened to the public.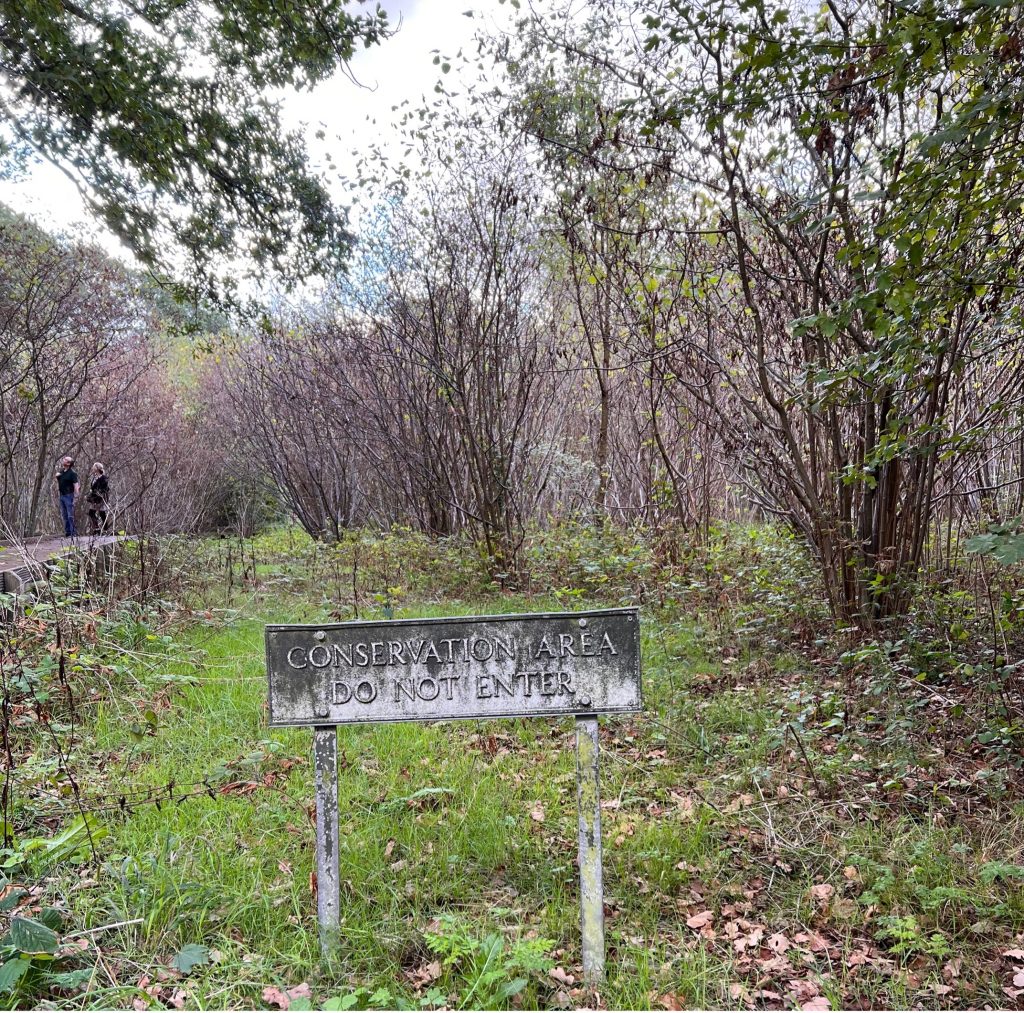 Trolls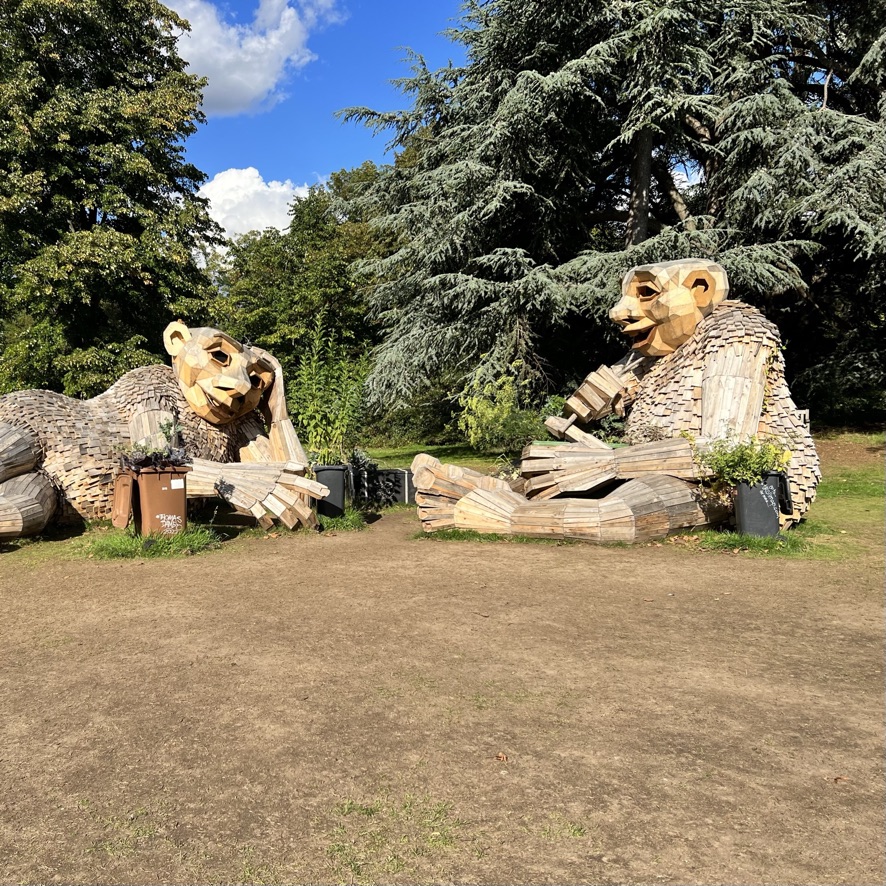 Inspired by the mythical creatures of old, these huge wooden sculptures crafted by Thomas Dambo exclusively from recycled materials and reclaimed timber serve as an honest reminder of the horrific amount of waste our world throws away daily. In the sculpture, the 2 trolls eat from recycling bins strewn with vegetables, symbolising that by dining together and eating more plant-based, we can contribute to bettering our world.
Shirley Shirwood Gallery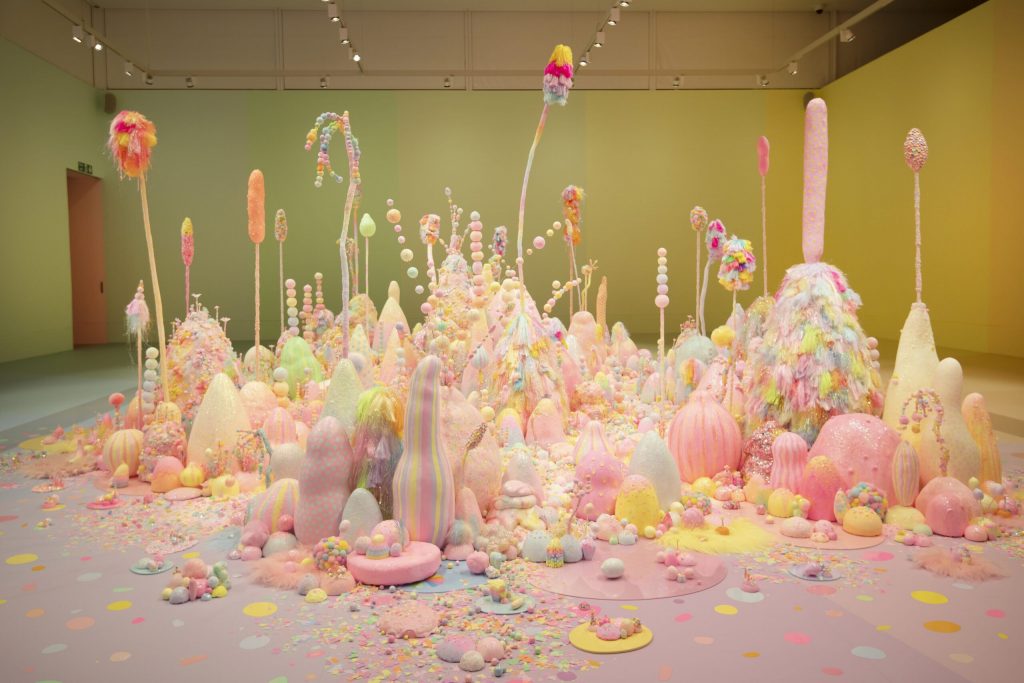 Our final stop took us to the Shirley Shirwood Gallery and several installations revolving around plants. Firstly, "When Flowers dream" by acclaimed Aussie artist Pip & Pop- a beautifully technicolour, sensory food utopia featuring underutilised foods like jellyfish, gourds and mushrooms crafted using pastel paint, sweets, pipe cleaners and bottlecaps.
Modern art has developed hugely in the past decade as curators attempt to intrigue all of your senses- simply 'seeing' your art isn't enough and this is testament to that, making for an incredibly immersive experience combining visual, auditory, and haptic stimuli.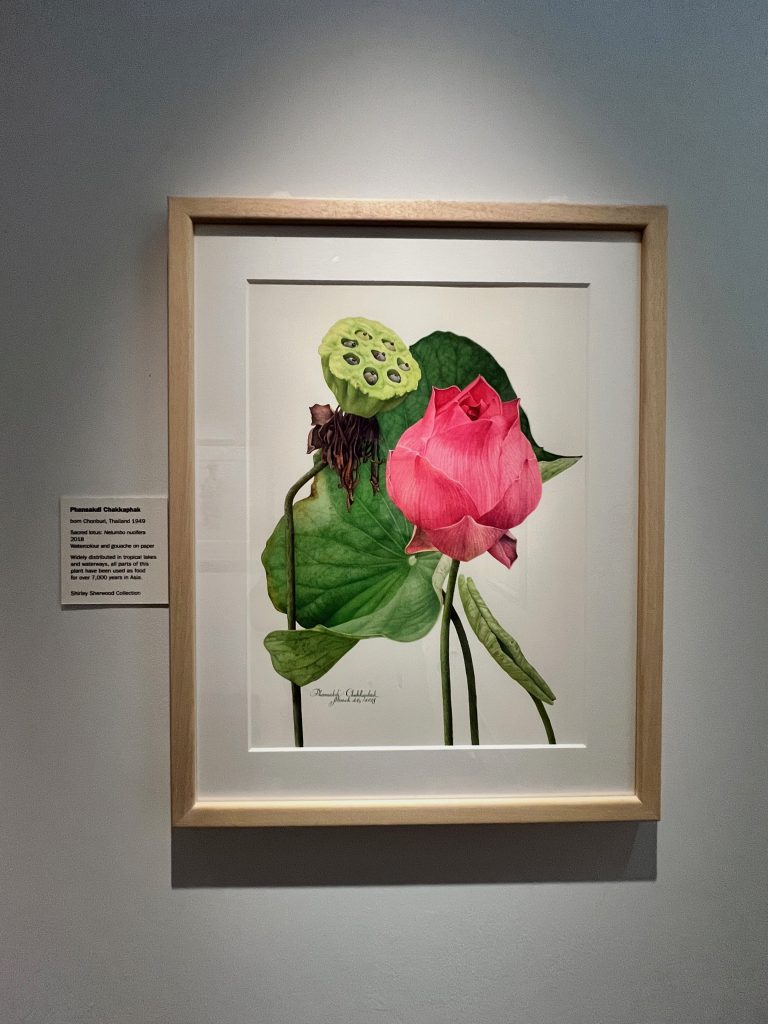 Also featured in the gallery is "The Art of Food" a collection of beautifully illustrated paintings from artists across the globe curated by Shirley Shirwood OBE herself- showcasing underutilised foods in exquisite detail.
Although the exhibition has now ended, Kew Gardens is a must-do attraction for anyone planning to visit the city. It's packed with things to see and do, and their continued work in conservation and horticulture contribute massively to the longevity of the world around us, whilst educating and informing the public. Well worth visiting!