Seaweed has been entering the mainstream for a while now, popping up in snacks and supplements – but the algae we casually walk past on beach holidays, unknowingly possesses truly wonderful properties.
Just this month, Selfridges launched the world's first ever edible drinks packaging – fully biodegradable spheres, made entirely from Seaweed. Clearly seaweed is of magical proportions, but how much do we know about the beach-dwelling algae?
The benefits of seaweed are no secret; the Greeks and Romans used to use Mediterranean seaweeds for medicinal purposes, and Japan and China have been using seaweed in culinary dishes for centuries, even millennia. However, when farmed and harvested in pure waters, from accredited sources, UK grown seaweed, such as that produced by www.seaweedandco.com can be used as an incredible food source too.
A nutrient dense superfood
Seaweed is incredibly nutritious – the benefits from just one teaspoon of seaweed are extraordinary: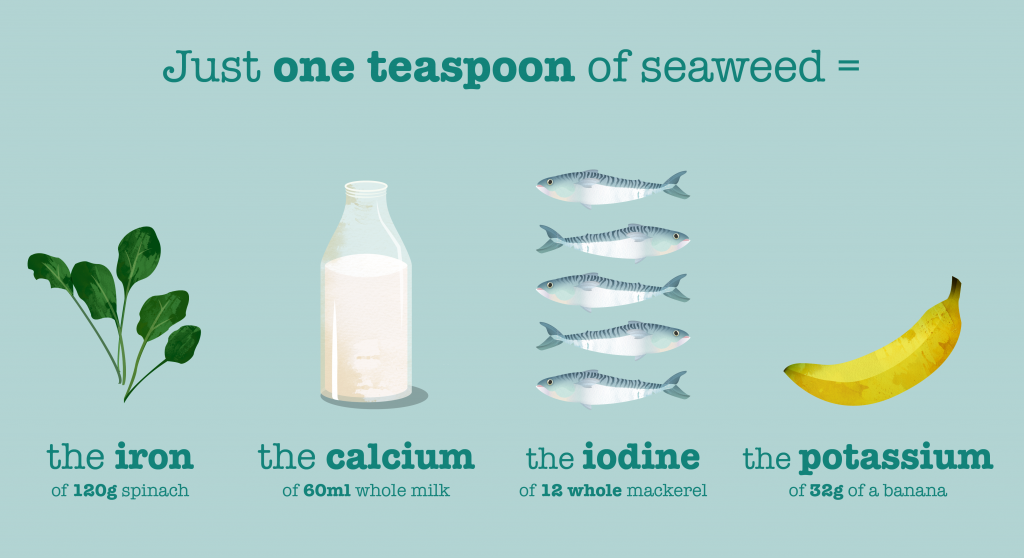 Seaweed is known for being naturally very rich in iodine. Iodine is key for maintaining normal cognitive function, the functioning of the nervous system, maintenance of normal skin and production of thyroid hormones. A vegan diet is often lacking in iodine, with many getting their daily requirements from fish, cows milk and yoghurt. Seaweed supplements provide a sustainable and easy way to get your daily hit of iodine, without compromise.
The new salt
Seaweed is also used extensively to replace salt and enhance flavour in a wide range of products. In many cases, the added flavour of seaweed has allowed for an overall reduction of 90% less salt. Again, an easy way to have great taste without compromise.
A body of evidence
Scientific studies have shown positive effects on weight and blood sugar management. By slowing the release of glucose to the bloodstream, seaweed assists in blood sugar regulation. As if that wasn't enough, seaweed has also been shown to promote weight management through reducing fat absorption and increasing the feeling of fullness.
Super sustainable
Seaweed is championed as being "the food of the future", due to it's highly scalable and sustainable nature.
It requires no land, freshwater or fertiliser to grow and is available on every coastline.  Some species of seaweed are known to be the fastest growing plants on earth, and are reported to grow up to 2 feet per day!
Studies have also shown that adding seaweed to product not only gives a great flavour, but increases the shelf life of a product, with potential to contribute against food waste.
The future is in the ocean
There is huge potential in the future of seaweed. The research is growing almost as fast as the plants themselves, showing us just how little we know about these incredible marine plants and their power.
At F&f we have been getting our teeth into understanding the incredible properties of seaweed as a superfood. This month sees the launch of an exciting new range of products, unveiled at the Natural and Organic Products Show 2018 from Seaweed & Co.
We will be unveiling the full story next week.